Topic:
7: Children and youth
Work Types:
Environment / Work with children / Sport
Number of places still available:
2
Free places last update:
30 Jul 2019
International age:
18 - 99
Required Language:
English
Spoken Language:
English, Serbian
Child friendly camp
Yes (Minimum age: 7)
Motivation letter:
This camp requires an additional motivation letter to explain in more detail why you would like to attend.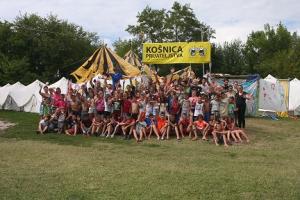 Description: For the 15th time the NGO "Košnica" is organizing the camp "Beehive of Friendship" for orphans and children from socially disadvantaged households with support from motivated volunteers. Participating children are coming from all over the region. During the time spent in the camp they work on their social skills and self-esteem trough sports, ecology and creative activities.
Type of Work: You will be supporting the realization of sport, ecology and other creative activities in the children's camp. Children will be arriving in two groups (9-15 August and 16-22 August). If you are interested in helping with setting up the camp you can arrive to camp venue already from 4 August. Some additional help with cleaning the beach and camp site, maintaining the stage, cleaning and preparing the facilities, setting up sports equipment etc. might also be needed during your stay. During the stay of children you will also help prepare and serve meals, take care of camp hygiene and participate in sports and creative activities with children (animation skills would be helpful).
Study Theme: You will learn how to organize activities and work with disadvantaged children. You will also learn more about the nature of Begečka jama and the surrounding area. You can take part in organized visits to Novi Sad, Fruška gora National park and a boat ride on the Danube.
Accommodation: The volunteers will sleep in tents. Please bring your own sleeping bag and a mat (and a tent, if possible)! Indoor showers and toilets are provided on the camp site. Meals are organized in the camp and can be adjusted to suit specific needs.
Language: Camp language will be English, but Serbian and other Slavic languages might also be used (Croatian, Bosnian, Slovenian...).
Requirements: Motivation letter and certificate of good conduct required. The workcamp is child friendly (optimal age 7-12 years). All children who come with their parents will take part in the workshops and activities together with the local children.
Approximate Location: Nature park Begečka jama, around 20km from Novi Sad. Lake area, 10mins walk to Danube river.