Natural and social agriculture near Rome
Topic:
11: Climate and sustainable lifestyle
Work Types:
Agriculture / Environment / Manual
Number of places still available:
0
Free places last update:
12 Aug 2019
International age:
18 - 99
Required Language:
English
Child friendly camp
Yes (Minimum age: 0)
Motivation letter:
This camp requires an additional motivation letter to explain in more detail why you would like to attend.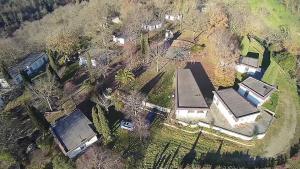 Description: 'Fattoria Fortebraccio' was born within the Collina dei Venti project which will become a semi-autonomous home for women victims of violence. It is a multifunctional farm, a place that allows full and healthy development of people, based on the re-appropriation of the seasonal rhythms of the human being in a natural environment. An agricultural project that links the natural fruit and vegetable production to the development of social work and integration activities, trainings and cultural initiatives. A meeting space, open and connected to the world, inspired by synergic agriculture, agroecology, permaculture and biodynamics. We have a vision of society based on sustainable and responsible social, economic and environmental practices.
Type of Work: The aims of the workcamp are: building wooden paths in the orchard which will start production next year using Food Forest techniques; preparation of preserves, jams, made with garden products, tomato sauce. In addition, the volunteers will support the organization of an evening open to the local community with live music and home-made pizza baked in a wood-fired oven with naturally leavened dough.
Study Theme: The study part will be dedicated to natural and social agriculture: permaculture, agroecology, organic regenerative agriculture, food forest. The discussions will also aim to respect and embrace the differences between people for a successful community building in rural areas. In addition to that, the volunteers will have the opportunity to learn about the situation of women victims of violence in Italy by getting to know the main Italian movements against gender based violence and the activities of the anti-violence centers in Rome and in the territory of Bracciano Lake.
Accommodation: The accommodation conditions will be very basic. The volunteers will sleep in tents in the orchard near the forest and in the vegetable garden with an area equipped for field kitchen. The volunteers must bring their own sleeping bag, sleeping mats, torches and tent (if they want to sleep alone). There will be a dry toilet and a shower with hose for watering. Possibility to shelter in case of rain in the nearby houses that are under restoration. No wifi - only natural connections in the forest, however there is phone coverage.
Requirements: Basic adaptation skills to the camping life in the Macchia di Bracciano woods are required. The workcamp is not recommended for people allergic to dust and that are not physically trained for manual work. The volunteers should bring comfortable clothing for work, trekking boots and trousers, kway in case of rain. Use of natural detergents like soap.
Approximate Location: Collina dei Venti, Via della Macchia, Bracciano RM, 4 km from Vigna di Valle, and 7 km from Bracciano, in the province of Rome.
Notes: Collina dei Venti is in the countryside – approximately 4 km from Vigna di Valle and 7 km from Bracciano. Only in Bracciano it is possible to access an ATM so it is important to withdraw money before arriving at the site of the workcamp. There is no wifi but there is telephone coverage. It may be useful to bring a driving license with you. Opportunities for leisure time are Lake Bracciano (bring your swimsuit) or visit to Rome.