TraveLearn - Peace and Solidarity (WikiCamp)
Topic:
3: International solidarity
Work Types:
Cultural heritage / Study, discussion, research
Free places for Females:
1
Free places last update:
02 Jul 2019
International age:
18 - 29
Extra fee to be paid in the hosting country:
60.00 Euro
Breakdown:
Accommodation and food: 0.00 Euro
Transportation: 0.00 Euro
Activities: 0.00 Euro
Hosting organisation support: 60 Euro
Purpose of extra costs:
Participation fee covers the foods, accommodation, local transport for project, certificate of participation, management fee and material for the camps. Also we will organize some tours included to the fee. Please keep it in your mind that all personal expenses are excluded. Participants will have to pay fee at arrival to the camp.
Required Language:
English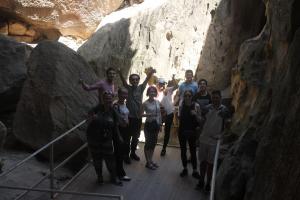 Description: Drop out of your comfort zone. Four approaches will help: theoretical grounding, individual analysis and reflection, group work and physical challenge. Combination of those will help you to learn by live experience. The online encyclopedia Wikipedia was started in 2001 and is today one of the most popular websites worldwide, being used by internet users all over the world for its open content created by volunteer writers. Over 38 million articles in over 250 languages exist already. We will get to know Wikipedia and other Wikimedia projects and will support the aim to make quality content about necessary topics.
In a nutshell, we will travel, learn and the create articles on necessary topics.
Type of Work: Doing research for Wikipedia articles, translating articles and improving existing articles in your native language (or for skilled editors writing new articles). The project organizers will prepare a list of necessary articles. Organizers plans to visit with volunteer to the cultural and historical places of Azerbaijan. Sharing your new knowledge with the Azerbaijani Wikipedia community and maybe also giving workshops on your new knowledge and skills to locals.
P.S: You DON`T have to have knowledge on Wikipedia already, there will be organized wikipedia trainings for volunteers.
Study Theme: There will be a big emphasis on studying in this workcamp. We will learn how to write good Wikipedia articles and take pictures for Wikimedia projects. We will learn about the principles behind Wikimedia projects as well as free licences/open content philosophy in general. We will learn through research, and also through exchange with other participants and through external inputs.
Accommodation: Accommodation and food (or products) will be provided by AYAFE. Volunteer will stay at volunteer house or a hostel.
Language: Project will be held in ENGLISH. Azerbaijani, Turkish and also Russian is welcome to be able to communicate with local people.
Requirements: - You DON`T have to have knowledge on Wikipedia already, there will be organized trainings for volunteers.
Bring songs and dances from your country, your musical instrument, your games and your good mood! :)
Approximate Location: Project will take place in Baku. Baku is a multicultural and hospitable city. It hosted the 57th Eurovision Song Contest in 2012, the 2015 European Games, the 2016 European Grand Prix, 4th Islamic Solidarity Games and Azerbaijan Grand Prix in 2017, 2018 and 2019 and will host UEFA Euro 2020. We will be glad to meet you in our beautiful city of Baku. :)
More info about Baku City: 1) https://en.wikipedia.org/wiki/Baku 2) http://www.azerbaijan.az/portal/General/Capital/capital_e.html 3) https://www.advantour.com/azerbaijan/baku.htm
Notes: AYAFE (Association of Young Azerbaijani Friends of Europe) - one of the first young non-governmental organizations in Azerbaijan, established in November 1997, with the general aim of contributing to the integration of Azerbaijan into the European Institutions. We stand for peace, tolerance and understanding. We do lots of interesting projects, mainly organize seminars, conferences, voluntary activities. AYAFE is a partner organization of the Service Civil International (SCI) in Azerbaijan.