Heritage and Cultural Exchange Int'l. Workcamp
This project is part of the SCI North South Programmes. Volunteers should be 20 years old, have previous volunteering experience and take part in the Preparation Workshops organised by their sending branch. More details from your sending branch.

Topic:
12: Art, culture and local history
Work Types:
Festival / Cultural heritage / Manual
Number of places still available:
14
Free places last update:
08 May 2019
International age:
18 - 75
Extra fee to be paid in the hosting country:
200.00 Euro
Purpose of extra costs:
Bhaktapur is the world heritage city it is preserve UNESSCO. So local government take entry fee to enter the city. . Entry Fee for SAARC Country is Nrs 300 and Others is 15 USD.Local government use this money for rebuild and preserve the historical monument.
Required Language:
English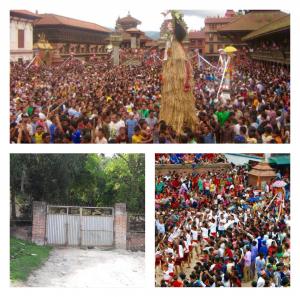 Description: One of the spectacular things about Nepal is its cultural heritage. Among numerous festivals, "GAI JATRA" (Cow Carnival) celebrated in the whole country is very special in Bhaktapur and popular in the country. Volunteers will get this rare opportunity to observe and participate in this festival and appreciate it. The project provides you very special way to discover the normal life of Newar community in Bhaktapur. How surprisingly this small town is out of touch from westernisation and globalisation. Bhaktapur is still very pure with its outstanding social and cultural conservation.
Type of Work: There we will do School Gate and wall painting and Gardening and clean school area .School name is Shree santa Krishna Primary school at Sipadole , Bhaktapur
Study Theme: 1.cultural heritage and invironment of Kathmandu valleys .
Peace movement in Nepal.
Self defence against sexual harestment.
Accommodation: Basic accommodation at the public/local schools. Sleeping bags and mats required. Shower and toilet also in school as traditional style.
Language: English is the camp language.
Approximate Location: The work camp is going be held in Shree santa Krishna Primary school at Sipadole , Bhaktapur
Notes: : Please bring characteristic, Traditional & Interesting games and/or food from your country. This is very cultural part of Nepal, so every such event like this one would be very popular. Sense of team work and humour is more than welcome.