Topic:
6: Gender equality and sexuality
Work Types:
Environment / Social / Study, discussion, research
Free places for Females:
0
Free places last update:
03 Jul 2019
International age:
18 - 99
Required Language:
English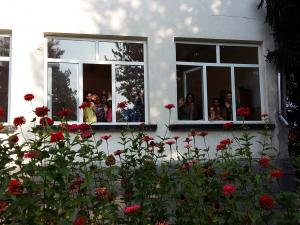 Description: Due to lack of equal opportunities in the small villages in Bulgaria, the group of young women between 15 and 30 years old is very vulnerable. After finishing school most of them do not continue their personal development or their education. With the goal to engage and empower girls we have organized two workcamps in the village of Rumyantsevo. In 2017 we learned together some DIY and upcycling methods from Internet, and in 2018 we wrote and performed feminist theater play. This year we want to test in practice the assumptions of gender roles, and hopefully boost the confidence of the girls even more by engaging them in a outdoor camping experience. We will work on our self-reliance, learn new skills and talk about topics such as body image, society expectations, self-esteem.
Type of Work: Volunteers and local girls will be equal participants of the worcamp, they will live, eat and spend all the time together but it will be volunteers' responsibility to prepare workshops on women and gender topics. The work part of this workcamp is to create, prepare and facilitate activities for all participants. Both the form of the workshops and the topics are open and flexible, but it is expected that volunteers come to the workcamp with the ideas what and how they want to share with others. It can be anything from leading a discussion about women in media to sharing a skill of presenting yourself during job interview.
Study Theme: Apart from gaining practical camping skills such as collecting woods, starting fire, living eco friendly and workshops on women topics, there will be space for discussions on other topics and sharing international experiences. The volunteers will have a chance to experience Bulgarian nature while hiking in the Pirin mountain.
Accommodation: First few days of the workcamp we will stay in Vlahi Nature school (http://vlahi.org/en/). The group will be accomodated in shared room with beds. Outdoor showers with water warmed by the sun and outside compost toilets will be available. We will have a big kitchen space to prepare our own food and the whole place will be just for the group. For the outdoor experience the whole group will set up tents camping site in the mountain region. Tents and mats will be provided. All participants need to bring their own sleeping bag, comfortable hiking shoes, some warm clothes for the evenings.
Language: English
Requirements: The workcamp is open exclusively to female volunteers. If you are open, creative and communicative person, who is willing to live in a nature for a week and who cares about gender issues, you are very welcome. Because it is expected that volunteers prepare activities and workshops, there will be a skype meeting held with each candidate, where we will discuss your ideas.
Approximate Location: Vlahi Nature school is located in Vlahi village (9km away from city of Kresna and 160 km south of Sofia). The workcamp will be implemented in the Vlahi Nature school and the region of Pirin mountain where Vlahi village is situated.
Notes: Visit the Facebook fun page of Club Rumeni to see photos and videos from last years workcamps: https://www.facebook.com/KlubRumeni/
Organization Description: http://cvs-bg.org/ https://www.facebook.com/CVS.Bulgaria