Heritage preservation in L'viv
Camp code:
UA-DE-SCI 12.12
Topic:
12: Art, culture and local history
Work Types:
Cultural heritage / Restoration, renovation / Study, discussion, research
Number of places still available:
0
Free places last update:
10 Jul 2019
International age:
18 - 99
Extra fee to be paid in the hosting country:
10.00 Euro
Breakdown:
Accommodation and food: 0.00 Euro
Transportation: 0.00 Euro
Activities: 0.00 Euro
Hosting organisation support: 10 Euro
Required Language:
English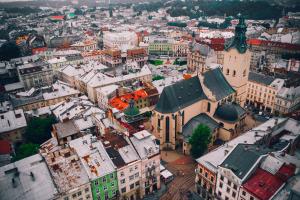 Description: Are you interested in Jewish culture, history and heritage? Have you ever wondered how the life of an ethnical minority looks like in other countries? Do you want to learn more about Ukraine and its ethnicities, living side-by-side through centuries? International Volunteer Camp "Heritage Preservation" is looking for participants, who would like to work for the preservation of Jewish heritage in Ukrainian city of L'viv.
Type of Work: Participants will be involved into manual work connected with cleaning and preservation of Jewish heritage sites. Each participant is also responsible for preparation of small guides about places we are going to attend through the program.
Study Theme: You will have opportunity to:
learn more about Jewish history, culture, traditions, holidays etc.
participate in the intercultural dialogue between German and Ukrainian participants
meet local activists, authorities and decision makers involved into ethnical policies and heritage reservation
participate in educational seminars and expeditions, connected to the topic
take part in creation of materials for local and regional media (articles, blogs etc.) and a short film about this camp
visit beautiful but yet undiscovered by mainstream tourists spots of Western Ukraine
Accommodation: Participants will be accommodated in the building of local project partner - Sholom Aleichem Jewish Cultural Society.
Requirements: Participants must be interested in the topic of Jewish culture and history, perseverance and remembrance. This camp consists of study part and reconstruction work, therefore, participants should be ready to work manually.
To apply, volunteers need to fill in the application form
Approximate Location: The camp will take place in the Western part of Ukraine. Meeting and study part will be held in L'viv. Some additional activities and study visits will be held in other towns of L'viv region.
Notes: Participants have to pay a placement fee of 50€ to SCI and additional fee of 10 € to our Project Partner on arrival in Ukraine. Food, accommodation, and local transportation during the camp program are covered by Project Partner. Travel costs in amount up to 110 € will be reimbursed for international travel costs after all original documents have been received. Participants must have their own insurance coverage.