Reducing Waste Now! (Berlin)
Topic:
11: Climate and sustainable lifestyle
Special Topics:
Climate for Peace Programme:
Work Types:
Environment / Study, discussion, research
Number of places still available:
2
Free places last update:
01 Aug 2019
International age:
18 - 99
Extra fee to be paid in the hosting country:
0.00
Required Language:
English
Motivation letter:
This camp requires an additional motivation letter to explain in more detail why you would like to attend.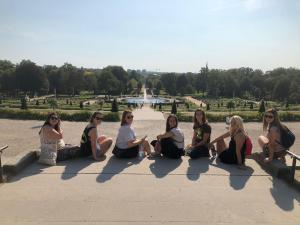 Description: Since it's becoming more and more difficult to estimate the amount of waste generated and its whereabouts - the waste reduction plays an important role in building a more sustainable future. Due to this importance the aim of this study camp is to offer fun, creative and sustainable solutions for single use, short-life and disposable everyday items and overproduction to participants with or without strong experience and knowledge on the topic. The participants will be encouraged and guided by the facilitators to develop their own actions, which they will implement in their local communities, acting as multipliers and raising awareness while also enhancing skills of local population. The idea of the study camp could be summarized with the popular quote "think globally, act locally".
Type of Work: IMPORTANT: As contrary to a general workcamp, this studycamp will offer little to no physical work/manual labour. The participants will mostly take part in workshops, trainings, small group work, discussions and excursions. We will deal with the following topics: • The negative impact of waste on the environment and the importance of waste management and waste reduction for a sustainable lifestyle • "Best Practice" approaches and solutions • Do-it-yourself tips and tricks (life-hacks) • Action planning and implementation of acquired knowledge in everyday life and in one's own society.
Study Theme: Finding alternatives to reduce waste, lowering down the impact on climate change; "zero waste" philosophy; alternative sustainable lifestyle.
Accommodation: Culture and Education Center KuBiZ, Berlin Weißensee; Self-catering.
Requirements: A good command of English and strong interest in the study topic. Motivation letter required. Please download this document and send it attached to your online application.
Approximate Location: Berlin, the capital city of Germany. The venue of the camp is located in Pankow, it can be reached in 20 minutes from the city center by public transport.
Organization Description: This workcamp is organized by the German branch of Service Civil International (SCI). SCI Germany was founded in 1946 and is approved as a non-profit organisation. We are one of the oldest peace and volunteer organisations. SCI Germany aims to promote peace, non-violence, international solidarity, social justice, sustainable development and cross-cultural exchange through international voluntary work. We cooperate with a network of branches and partners in more than 90 countries. Every year, SCI Germany organizes about 50 international workcamps in Germany.