El Negre: construction support to the centre for nonviolence in el Ripollès
Country:
Spain - Catalunya
Topic:
10: Environment protection
Work Types:
Construction / Environment / Manual
Number of places still available:
0
Free places last update:
06 Aug 2019
International age:
16 - 99
Extra fee to be paid in the hosting country:
0.00
Required Language:
English
Motivation letter:
This camp requires an additional motivation letter to explain in more detail why you would like to attend.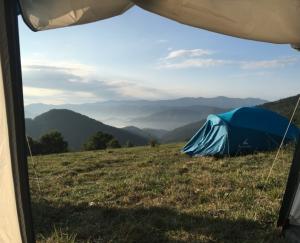 Description: The Vidabona Foundation, the non-profit organization that owns Mas Negre, aims to promote the values of participatory democracy, non-violence, dialogue and consensus and the evolution of the Society towards its full responsibility, maturity and fullness.
Type of Work: The basic task is the construction of 3 dry toilets in camping grounds and the improvement of access to these camping areas. We will also use bush cutters and chainsaw to pave the paths and clean the forest's environment.
Study Theme: Volunteers will have the opportunity to participate in afternoon workshops on dialogue and consensus, participatory democracy and non-violence. Moreover, the host organization will organize a session of self and collective realization through meditation, symbolic games and walks in the nature.
Suggested activities: hiking, visiting the old chapel of Santa Maria de Vidabona, the monastery of Ripoll, one of the most important architectural ensembles of the Catalan Romanesque, the town of Sant Joan de les Abadesses and its abbey, Ogassa and the museum about its mining past.
Accommodation: Mixed room of 8 and 6 people with bunk beds, mixed bathrooms.
Food: Volunteers will be helping in the preparation of the meals and in washing the dishes. The host organization will be responsible of doing the shopping. Any special diet needs can be taken into account.
Language: English, catalan, spanish
Approximate Location: Alberg el Negre, near Ogassa
Notes: It can be helpful to have a previous knowledge in working tools, and it is required to be ready to work outdoors.
Organization Description: SCI Catalunya is the Catalan branch of SCI, one of the 2 SCI branches in Spain. We are based in Barcelona and our working area covers the Catalan countries (including Catalonia, Valencia, the Balearic Islands and Andorra). The other provinces of Spain are covered by SCI Madrid. SCI was founded in 1982 and he organization works on both a global and local level. On the global level, we organize international workcamps in the above mentioned territory Long Term Voluntary Projects (including EVS), trainings and seminars. . On the local level, we work to promote peaceful social transformation of society in order to encourage sustainable human development and a culture of peace, through volunteer groups, involving our community and local networks.