Persian Garden and Qanats
This project is part of the SCI North South Programmes. Volunteers should be 20 years old, have previous volunteering experience and take part in the Preparation Workshops organised by their sending branch. More details from your sending branch.

Country:
Iran, Islamic Republic of
Topic:
12: Art, culture and local history
Work Types:
Cultural heritage / Work with children / Restoration, renovation
Number of places still available:
12
Free places last update:
19 Aug 2019
International age:
18 - 99
Extra fee to be paid in the hosting country:
120.00 Euro
Breakdown:
Accommodation and food: 0.00 Euro
Transportation: 0.00 Euro
Activities: 0.00 Euro
Hosting organisation support: 120 Euro
Motivation letter:
This camp requires an additional motivation letter to explain in more detail why you would like to attend.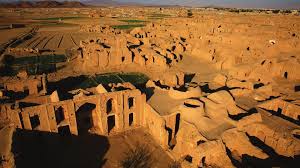 Description: Sarvsaan Cultural Heritage Organization was founded on 2014, aiming to introduce and promote "participatory cultural heritage conservation" to the Iranian society. Although participatory activities had occurred before, but they mostly targeted one specific group of community and natural issues. Sarvsaan enhanced the target audience and encouraged young people to take action and cooperate on hand-on activities in the realm of heritage preservation. The Cultural group itself consists of young volunteers who are architects, conservationists and heritage experts.
Type of Work: 1. Volunteers would help the master of works restoring muddy walls around the Persian Garden, it's a very old technique of muddy architecture, which is called Chineh.
Working hours: 9h-13h with 15 minutes break
volunteers will prepare activities in the Persian Qanat and Garden, for the children of 6-11. This session would be facilitated by 2 experts from Nature-School, and our camp leaders who are experts on Qanat and Persian architecture.
Working hours 15h-18h
Study Theme: Qanats: their physical character and social role. Persian Garden: its architecture and natural arrangement.
talks from experts, on the realm of cultural heritage, Qanat and Persian garden. These talks would be followed by a walk on the path of Zarch Qanat inside the city of Yazd.
we will address cultural heritage and cultural differences, which usually turn into an interesting cultural discussion between local and international volunteers.
peaceful coexistence of religions in the region
Accommodation: Volunteers would be accommodated in the traditional guesthouse of Pahlevanpour Garden. There will be 6 rooms, equipped with beds, extra mattresses, private bathrooms, A/C. Good quality food would be prepared by the local chef being assigned by the site manager. We try to have more vegetarian foods, otherwise some basic materials like cheese, bread and fruit would be provided for the volunteers with special needs. Kosher and Lactose-free diets are not easy to be supported in Iran.
Language: English, Persian
Requirements: - Appreciation for cultural heritage and new culture! ?
Motivation Letter
Working Clothes and shoes
Approximate Location: Pahlevanpur Garden