Be an archeologist! Discover the ancient Greek city of Olbia
Topic:
12: Art, culture and local history
Work Types:
Archaeology / Cultural heritage
Free places for Females:
2
Free places last update:
01 Jul 2019
International age:
18 - 99
Extra fee to be paid in the hosting country:
20.00 Euro
Purpose of extra costs:
We will use participation fees to finance a 1-day trip to the nearby city and regional center Mykolaiv.
Required Language:
English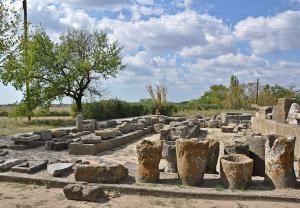 Description: Olbia (Ancient Greek: Ὀλβία Ποντική, Ukrainian: Ольвія) is an archaeological site of an ancient Greek city on the shore of the river Southern Bug, in Ukraine, near village of Parutyne. The archaeological site is protected as the National Historic and Archaeological Preserve. The preserve is a research and science institute of the National Academy of Sciences of Ukraine.
The Hellenic city was founded in the 7th century BC by colonists from Miletus. Its harbour was one of the main Greek emporia (trading cities) on the Black Sea for the export of cereals, fish, and slaves to Greece, and for the import of Attic goods to Scythia.
Type of Work: The volunteers will help a team of professional Ukrainian archeologists to uncover the remains of the ancient Greek city. They will work alongside other local and international volunteer/student groups. Due to the summer heat, working hours are 06:00 to 12:00 a.m., after which volunteers can have an afternoon nap before continuing with fun other activities.
Parutyne, where the archeological site is situated, is a large village of 2,000 inhabitants. There are excellent swimming and bathing opportunities and a possibility to fish in the river with your own rod (no license needed). Village has several shops, cafes, a school, a church, and a weekly farmer's market with cheap and tasty local produce.
Accommodation: Volunteers will be accommodated in rooms for 2 to 3 people, in a small house. The work station (archeological site) is at walkable distance, about 1 km from the house. The house has a kitchen with a stove and a fridge. Summer shower facilities are available outside the house. If you are coming by car or sharing a car - there is a free parking lot.
Language: Campleaders will speak English, Ukrainian, and Russian. We are happy to accept speakers of closely-related languages (i.e. Russian or Czech) even if your English is very basic.
---
Кэмп открыт для участников с низким уровнем знания английского языка, при условии знания русского или украинского!