Horts d'en Soler - Permaculture & Intercultural dialogue
Country:
Spain - Catalunya
Topic:
10: Environment protection
Work Types:
Environment / Peace / Restoration, renovation
Number of places still available:
4
Free places last update:
13 Jun 2019
International age:
18 - 99
Extra fee to be paid in the hosting country:
0.00
Required Language:
English
Child friendly camp
Yes (Minimum age: 0)
Motivation letter:
This camp requires an additional motivation letter to explain in more detail why you would like to attend.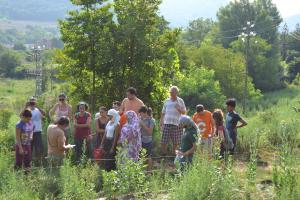 Description: Resilience Earth is a local coop who believe in social and ecological change. The coop works at local level in different municipalities on their rural region called "la Garrotxa", located in the north of Catalonia. The main objective is to build a more resilient and sustainable future. Resilience Earth works in one municipality called Sant Feliu de Pallerols, with the town council and some local organization to regenerate a piece of land (4 hectares) with using permaculture and bioconstruction techniques. In this project are involved different groups of the region (youth, elders, youth migrants)
Type of Work: The tasks that the volunteers will be doing during the project are:
• Build some walls (that support the land) with a traditional technique called "pedra seca"/dry stone • Create and recuperate some old paths using "wood and borrow" • Plant some trees or medicinal plants • A general cleaning of the space • Sharing with the youth migrants and working together • Taking care about the old people who wants to engage the project • Participate in some cultural activities with the local people
Study Theme: Regeneration of earth, sustainable future, collective work, intercultural dialogue and human rights
Volunteers will develop some soft skills like: collective work and how to work as a team, listen and dialogue with different cultures and be more awareness of the migration situation in catalonia. Also, they will learn some skills related with land: how to build a wall with stones, how to work in a permaculture design techniques, how to design a integral water system in a big land.
Accommodation: The volunteers will sleep in a little house called "la Casella del Peó" 5 minutes walking to the village center. The house has two big bedrooms (with a mattress), a toilet and a shower, with the possibility to use a public shower to (only 5 minutes walking). The volunteers are the people who will prepare the food, and the food will be mainly vegetarian. There are local gardeners who provide us with the ecological and local food production. The volunteers can go to the little supermarkets of the village to buy the food, and the promotors twice a week can go to the big supermarket.
Language: English, Catalan, Spanish, Arabic
Requirements: People who wants to make a change, people who really wants to work in a cooperative way and people who have or wants to have an open mind & heart!
Organization Description: SCI Catalunya is the Catalan branch of SCI, one of the 2 SCI branches in Spain. We are based in Barcelona and our working area covers the Catalan countries (including Catalonia, Valencia, the Balearic Islands and Andorra). The other provinces of Spain are covered by SCI Madrid. SCI was founded in 1982 and he organization works on both a global and local level. On the global level, we organize international workcamps in the above mentioned territory Long Term Voluntary Projects (including EVS), trainings and seminars. . On the local level, we work to promote peaceful social transformation of society in order to encourage sustainable human development and a culture of peace, through volunteer groups, involving our community and local networks.