Regeneration of Mas la Sala: agroecology and communitary living
Country:
Spain - Catalunya
Topic:
10: Environment protection
Work Types:
Environment / Peace / Restoration, renovation
Number of places still available:
0
Free places last update:
04 Jul 2019
International age:
18 - 99
Extra fee to be paid in the hosting country:
0.00
Required Language:
English
Child friendly camp
Yes (Minimum age: 0)
Motivation letter:
This camp requires an additional motivation letter to explain in more detail why you would like to attend.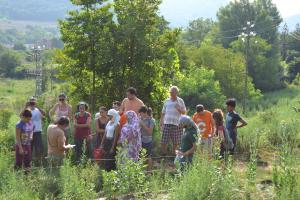 Description: The main goals of Mas la Sala:
the construction of a housing cooperative with energy transition criteria and with feminist perspective, putting the care in the center.
the transition from a model of extractive and conventional agricultural production to an agro-ecological model integrated into the ecosystem
To be part of the network of social and solidarity economy in local and global level.
be a node of knowledge, education, arts and transformational crafts.
Type of Work: A set of tasks to be carried out according to the climatic conditions and the volunteers' aptitudes and motivations (None of the volunteers will use dangerous machinery and we will ensure that all tools are used correctly): -Bioconstruction of a natural pool -Bioconstruction and application of the design of chicken house
Construction of a dry bath
Construction of troughs for the animals
Working hours: 8h -14h (11:00-11:30 break)
Study Theme: Ideas Meeting with Solidarity Economy Network of Ripollès to talk on social and solidarity economy and how is being boosted in this area. In the same sense, we could meet a feminist group of Ripollès where there the members of the community participate. The neighbor of La Masia is a person deeply rooted in the territory and sociable, we can encourage moments of encounter because the volunteers can know the area and customs of their people through his testimony. Around the place there are natural spaces for excursions (a forest, the iron route, the Vall de Bianya, etc.) and interesting
Accommodation: Volunteers will have an apartment inside the main house. It has two rooms, a toilet with shower and WC for 8, a kitchen totally equipped and a spacious living / dining room. In the outdoor space you can share the main terrace, the porch and the entrance yard. The organization and management (water, waste and cleaning) of the apartment will be done by the volunteers, respecting the rules of coexistence. Volunteers will be responsible of doing the shopping and cooking. The host organization will accompany them to do a big purchase in Ripoll and will offer advice.
Language: English, Catalan, Spanish
Requirements: People who wants to make a change, people who really wants to work in a cooperative way and people who have or wants to have an open mind & heart!
Approximate Location: Sant Pau de Segúries
Organization Description: SCI Catalunya is the Catalan branch of SCI, one of the 2 SCI branches in Spain. We are based in Barcelona and our working area covers the Catalan countries (including Catalonia, Valencia, the Balearic Islands and Andorra). The other provinces of Spain are covered by SCI Madrid. SCI was founded in 1982 and he organization works on both a global and local level. On the global level, we organize international workcamps in the above mentioned territory Long Term Voluntary Projects (including EVS), trainings and seminars. . On the local level, we work to promote peaceful social transformation of society in order to encourage sustainable human development and a culture of peace, through volunteer groups, involving our community and local networks.