Grangebeg Camphill Community
Topic:
13: Community life
Work Types:
Agriculture / Work with people with disabilities / Manual
Number of places still available:
6
Free places last update:
24 Jul 2019
International age:
18 - 99
Required Language:
English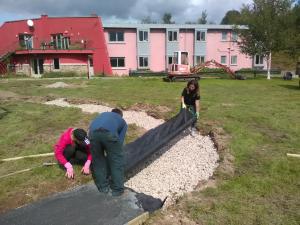 Description: Grangebeg Camphill Community is a small land based Camphill community for adults who have intellectual disabilities, established in 2006. The community is responsible for the care and management of 46 acres of land, on which they run a small herd of cattle, sheep, pigs and chickens. The community is organically certified. There are around 16 people living in the community in 3 houses, 10 of whom have special needs. There are also several employees coming in to the community during the week and 8 day attendees that join the Community Mon-Fri.
Type of Work: Volunteers will be helping carrying out the work on the Community grounds and gardens around the houses and enjoying some cultural gatherings, celebrations and outings! The work includes extending of the pathway which SCI/VSI volunteer group have started last year, along with general land based work, e.g. organic farming, gardening (such as planting, weeding, harvesting), as well as maintaining the woodlands and paths on the Community's land.
Study Theme: Camphill philosophy and life in the community.
Accommodation: Grangebeg Camphill will provide food and accommodation in the Community hall. Please bring your own sleeping bags and we will provide mattresses and pillows. Volunteers will have their own kitchen facilities and will share in the domestic duties of cooking and cleaning on a rota basis, to be arranged amongst yourselves. Breakfast and Lunch will be shared with the Community. There are shared bath and shower rooms. Please be aware that on the whole Grangebeg campus there is a zero tolerance for alcohol.
Requirements: IMPORTANT: Strict Vulnerable Adults Protection procedures (including Garda vetting - Irish police check) are in place for this project. Police Check and references are required.
Approximate Location: Grangebeg is in a rural part of County Kildare, 60 km South-West from Dublin.
Notes: IMPORTANT: Strict Vulnerable Adults Protection procedures are in place for this project. Police Check and references are required. Please send your application first and we will contact you with further information about the documentation you need to provide and forms to complete. These procedures take time (about 3 weeks) and volunteers are encouraged to apply well in advance of the project start date! Please note that we cannot confirm your place on this project nor send a visa invitation letter (if you need a visa) Before the vetting is completed.