Anu viv dan la non-violans (Non-Violence Camp)
This project is part of the SCI North South Programmes. Volunteers should be 20 years old, have previous volunteering experience and take part in the Preparation Workshops organised by their sending branch. More details from your sending branch.

Topic:
4: Peace and disarmament
Special Topics:
No more war!
Climate for Peace Programme:
Work Types:
Agriculture / Environment / Peace
Free places for Females:
2
Free places last update:
13 Jun 2019
International age:
18 - 99
Extra fee to be paid in the hosting country:
100.00 Euro
Purpose of extra costs:
Accommodation, Food and transport
Required Language:
English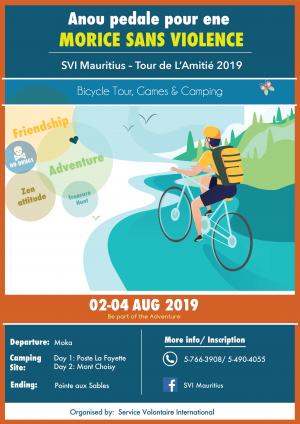 Description: Our camp is divided into two parts. The first one being the bicycle tour and the other one being the workcamp in a school specialised in the development of children with special needs.
The bicycle tour this year will have as Theme: Anu viv dan la non-violans. The English translation is: Let's cycle for a Mauritius without violence. This will enable the participants to experience how to overcome different situation of conflict latent in society.

The Prep Team is aiming at introducing some permaculture techniques with the expertise of Farmcity Co-coordinators.
Type of Work: Manual: the continuity of our environmental project in this school.
Cleaning and Farming
Study Theme: NON VIOLENCE
Accommodation: For the bicycle tour, we will be camping in tents and the participants will have the choice for tents or school classrooms for the second part
Language: English, French and our Mauritian creole