Camp for future (Kerpen near Cologne)
Topic:
11: Climate and sustainable lifestyle
Work Types:
Environment / Festival / Peace
Number of places still available:
7
Free places last update:
25 Jul 2019
International age:
18 - 99
Required Language:
English
Spoken Language:
English, German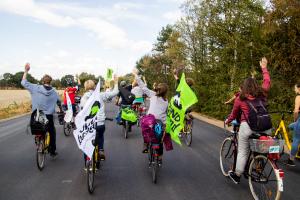 Description: The Camp for Future is an educational camp taking place in the Rhenish lignite mining region, close to Cologne. Organised with the help of volunteers it is aimed at educating and engaging more than 150 young people from the age of 16 in topics surrounding climate and environmental protection and a sustainable future. There will be workshops, demonstrations and a diverse evening program with panels, movies, poetry slams and concerts – and everyone's participation is needed. This year the camp is organised jointly with Young Friends of the Earth Europe – which means it will be even more international!
Type of Work: You'll help to install, maintain and dismantle the camp's infrastructure, including tents, sanitary facilities. Throughout the camp – along with all the participants - you'll help with cooking, doing the dishes and cleaning sanitary facilities. There is also time for creative projects!
Study Theme: You can join all activities on the camp or even share your own skills in the Open Space! Ranging from theoretical workshops addressing climate change, feminism or the food system to practical workshops such as drumming, yoga and other sports – the camp's program has a lot to offer.
Accommodation: You'll sleep in communal tents and you'll cook together with a cooking collective.
Approximate Location: The camp will take place near Cologne, one of the largest cities of Germany.
Organization Description: This workcamp is organized by the German branch of Service Civil International (SCI). SCI Germany was founded in 1946 and is approved as a non-profit organisation. We are one of the oldest peace and volunteer organisations. SCI Germany aims to promote peace, non-violence, international solidarity, social justice, sustainable development and cross-cultural exchange through international voluntary work. We cooperate with a network of branches and partners in more than 90 countries. Every year, SCI Germany organizes about 50 international workcamps in Germany.