Weekend workcamp in Slatinka
Topic:
10: Environment protection
Free places for Females:
0
Free places last update:
04 Oct 2019
International age:
18 - 99
Required Language:
English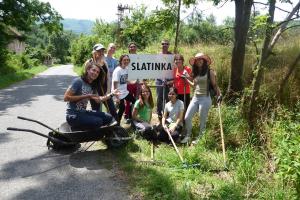 Description: The Slatinka Association was established in 1993 as a reaction to the construction of the Slatinka water dam on the Slatina River. The association's mission is to work at the basin of the Slatina River, to protect the environment and preserve natural areas while spreading consciousness of the project's effects on nature. One of their main aims is to bring life back to the village of Slatinka, since many people had to leave due to the dam construction.
Type of Work: Preparation of wood for winter for the building of the old school - in these days Eco centrum where our partner organisation is organizing meetings and workshops about ecology, installation of signposts on the educational path.
Accommodation: Volunteers will stay at a local school called the Eco Center. The center has an outdoor shower that requires participants to manually heat water before each shower, and the toilets are dry (outhouses). There will not be access to running water, so water will be delivered or taken from a well pump for showers. Drinkable water will be provided by local partner. On-site access to electricity is available. There are two bedrooms with mattresses, but a sleeping bag is required. Meals will be prepared by the volunteers themselves. The food will be mostly vegetarian.
Requirements: Bring a sleeping bag and a mat, working clothes, warm clothes, raincoat, strong boots, headlamp and a smile on your lips :)
Approximate Location: Slatinka is a little village near Zvolen located in the Central part of Slovakia. The village is surrounded by beautiful nature with many touristic routes and hiking opportunities.