Nature Park Alp assistance & local traditions (Varen VS)
Topic:
10: Environment protection
Work Types:
Construction / Environment / Cultural heritage
Number of places still available:
3
Free places last update:
12 Dec 2020
International age:
16 - 99
Required Language:
English
Child friendly camp
Yes (Minimum age: 8)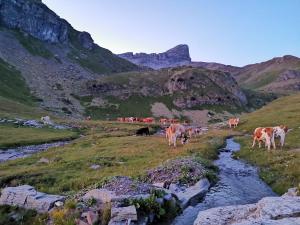 Description: The regional natural park "Pfyn-Finges " lies between Gampel and Sierre in a mountain valley of Switzerland called "Valais". As the regional instrument for sustainable development, the natural park "Pfyn-Finges" is committed to a wide range of projects: The park aspires to develop the region to be fit for our grandchildren through impulses and measures that serve to upgrade and maintain our unique natural and cultural values. Agriculture has a major influence on the landscape and the biodiversity. For this reason the natural park "Pfyn-Finges" coordinates volunteer work. At "Alp Varen", which is a part of the natural park, there is lots of work to accomplish each year. Alp Varen is situated in one of the most beautiful locations in Valais in view of numerous 4000er peaks.
Type of Work: The meadows and trails need to be maintained and mobile fences to be set up. This work needs to be done before the cattle and their herders arrive to stay over the summer at the alp. And the work still goes on once all of the cattle arrived in Alp Varen. During the first week of the workcamp, we will prepare everything for the cattle to arrive. This includes among other things: removing fast growing shrubs and trees, cleaning the meadows of sticks and stones and putting up mobile fences. At the end of week one or the beginning of week two you will be part of the traditional "Alpaufzug" – you can assist (or only enjoy watching) when the farmers bring their cows up the mountainside.
Study Theme: History about the local alp cooperative & the tradition of moving the cows from the valleys to the local alp, as well as traditional "cow fights" of this region. Furthermore we will provide an introduction to the wildlife and typical vegetation of Valais. The information will be given at the beginning and during the work, as well as during your leisure time activities.
Accommodation: Mattresses are provided, but please bring your own bed sheets and a warm sleeping bag. A Toilet and warm shower are provided. Volunteers will cook together. All volunteers will sleep in the same room – separate rooms for male and female participants are not provided.
Language: English, German & Swiss German
Requirements: Please do not book your travel before we confirm having the minimum number of 4 volunteers subscribed.
Notes: Leisure activities: We will explore together the magnificent nature and cultural highlights of the Nature park perimeter. This could include Mountain peaks (heights depending on participants and the snow situation) or hiking along historic water channels, the famous "Pfyn"-Forest and the wild Rhone-plain. Professional Guides from the Nature Park will accompany you on some days. Other days you might just want to relax and enjoy the quietness on the mountain site. There are not only a great variety of different wildlife – like chamois or bearded vulture – but also breath-taking hiking trails and biking routes. This is a child friendly workcamps, but we accept a maximum of 2 kids between 8-15 years old.
Organization Description: SCI Switzerland is a non-profit organisation which promotes intercultural exchange, sustainable development and non-violent conflict resolution. It has been organizing workcamps and long-term exchanges for volunteers worldwide since 1920. Each year more than 100 volunteers from Switzerland engage in SCI projects abroad, while around 200 international volunteers participate in projects in Switzerland. SCI Switzerland is certified by the Intermundo quality label, which guarantees high quality standards in youth exchange. Swiss workcamps are mainly focused on the work with youth as well as in the area of environmental protection. That is why among SCI Switzerland`s values is also an environmentally friendly lifestyle in accordance with the ideas of sustainable development. Volunteers are encouraged to be eco-friendly, especially when travelling to Switzerland and during the projects. Before applying be aware of high travel costs within Switzerland and check prices on the railway website www.sbb.ch. A participation in the camp from the first until the last day is needed for reason of instruction and group dynamic.