Country:
United States of America
Topic:
10: Environment protection
Work Types:
Art / Festival / Work with children
Free places for Females:
0
Free places last update:
05 Mar 2020
International age:
21 - 99
Required Language:
English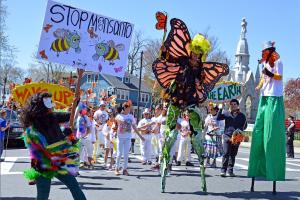 Description: Spontaneous Celebrations is a festival and community arts organization in Boston, Massachusetts committed to art, activism, community, and the environment. Our organization runs two large festivals a year. Spontaneous Celebrations has developed a spirited, successful, and unique approach to community building.Website: www.spontaneouscelebrations.org(http://www.spontaneouscelebrations.org)
Type of Work: Description: Wake Up the Earth Festival is our biggest festival which takes place on the first Saturday of May every year. This year will be the 42nd festival. The original festival was to celebrate the stopping of a highway being built through our section of Boston. Since then, the festival has raised awareness about the environment, labor issues and other political issues. The volunteers will join the festival committee to organize, publicize and engage the community in the event. They will help prepare signs, banners, costumes, decorations, kids activities, etc. They will run workshops for children to prepare costumes and props for the parade that starts the festival. Volunteers will help during the event with logistics, set-up, and general support. After the event, the volunteers will be involved with breakdown, clean up and final analysis of the event.We are hoping for volunteers to come to this camp who enjoy art, childrens activities, festivals and community events. There will be a great deal of interaction with children. It will be quite helpful if you have some experience with children. Enthusiasm and positive energy is very importantStudy Themes: Activism and Community Organizing
Study Theme: Study Themes: Activism and Community Organizing
Accommodation: Volunteers live in pairs with local families close to Spontaneous Celebrations. Accommodations will be communal and space will be shared. Breakfast will be eaten at the host families homes or at Spontaneous Celebrations. Volunteers will take turns cooking lunch and dinner for the group at Spontaneous Celebrations and some meals will be provided from community members or restaurants. There is access to laundry nearby or in the homes. Be sure to tell the other volunteers and the co-leaders if you have any special diet needs. Vegetarian options available.
Language: eng,
Requirements: To pay the extra fee, please visit https://vfp.org/donation-page/ to pay the US dollar150 fee. Select Custom, enter the fee, select the category as Incoming Placement Fee and then type in your information. Let me know if you have questions.
Approximate Location: Location: Jamaica Plain is a neighborhood in Boston, Massachusetts. Jamaica Plain, or JP as the locals call it, is a classic streetcar suburb that has evolved into one of Boston s most diverse and dynamic neighborhoods. The ethnically diverse area is home to many Latinos, young families, artists, activists and a growing gay and lesbian community. Boston is a popular city in the northeast known for its history, universities, sports teams, and easy access to New York City.Km from New York City: 306 kmKm from San Francisco: 4339 kmThere will be opportunities to explore the city during free time and engage with the community. Leisure activities will be based on volunteer interest. The houses and Spontaneous Celebrations are close to the subway to go downtown. Many community members will be involved in this event and will be helping before and after the event. Bring music, games, recipes or other activities to share.
Notes: Co Leader desired