Country:
United States of America
Topic:
10: Environment protection
Work Types:
Art / Festival / Work with children
Free places for Females:
3
Free places last update:
23 Feb 2020
International age:
21 - 99
Required Language:
English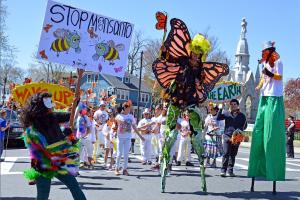 Description: Spontaneous Celebrations is a festival and community arts organization in Boston, Massachusetts committed to art, activism, community, and the environment. Our organization runs two large festivals a year. Spontaneous Celebrations has developed a spirited, successful, and unique approach to community building.
Website: www.spontaneouscelebrations.org
Type of Work: Description: Wake Up the Earth Festival is our biggest festival which takes place on the first Saturday of May every year. This year will be the 42nd festival. The original festival was to celebrate the stopping of a highway being built through our section of Boston. Since then, the festival has raised awareness about the environment, labor issues and other political issues. The volunteers will join the festival committee to organize, publicize and engage the community in the event. They will help prepare signs, banners, costumes, decorations, kids' activities, etc. They will run workshops for children to prepare costumes and props for the parade that starts the festival. Volunteers will help during the event with logistics, set-up, and general support. After the event, the volunteer
Study Theme: Study Themes: Activism and Community Organizing
Accommodation: Volunteers live in pairs with local families close to Spontaneous Celebrations. Accommodations will be communal and space will be shared. Breakfast will be eaten at the host families' homes or at Spontaneous Celebrations. Volunteers will take turns cooking lunch and dinner for the group at Spontaneous Celebrations and some meals will be provided from community members or restaurants. There is access to laundry nearby or in the homes. Be sure to tell the other volunteers and the co-leaders if you have any special diet needs. Vegetarian options available.
Notes: Co Leader desired