Organizing a tale festival in Chiny
Country:
Belgium - French speaking
Topic:
12: Art, culture and local history
Number of places still available:
5
Free places last update:
19 Feb 2020
International age:
16 - 99
Required Language:
French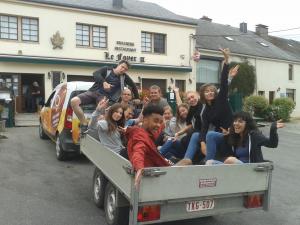 Description: The Youth house of Florenville contributes to the social and cultural development of the region, by giving youngsters from 13 to 18 years old, the opportunity to meet each other and discover new leisure activities. To this end, the Youth house takes part in the organization of the Tale Festival of Chiny along with the association "Chiny Cité des Contes". The Festival lasts one week-end and takes place in the village of Chiny. It offers a wide range of tales, told in French by international professional storytellers (from Quebec, various African countries…). Most tales are for adults and youngsters.
Type of Work: Volunteers will work together with some youth from the youth house and the professional team on the preparation and arrangement of the festival site. They will put up and take down facilities. During the festival, they will help with different logistic things (management of the eating space, of the parking, opening of the doors before the shows, flying team in case of problem).
Study Theme: Learn about an unknown cultural media such as tales, learn about youth and socio-cultural work in rural areas.
Accommodation: Volunteers will sleep in a house in Chiny (bring a sleeping bag).
Language: Rather good knowledge in French required (for the exchange with the local volunteers/people and in order to be able to enjoy the tales during the festival)
Requirements: Be interested in art and cultural activities. The work is physical in the respect of everyone's rhythm.
Approximate Location: Chiny is a small town located in the Belgian Ardennes near the French border. Many different activities in the nature are available (kayak, hiking...).
Notes: Not accessible to wheelchairs. http://www.mjcf.be and http://www.conte.be Open to volunteers from 16 years old (2 maximum from abroad)