Building a home for refugees families
Dates to be confirmed - apply later

Topic:
13: Community life
Work Types:
Agriculture / Construction / Social
Free places for Females:
3
Free places last update:
27 Apr 2020
International age:
18 - 31
Required Language:
English
Spoken Language:
English, French, Spanish
Motivation letter:
This camp requires an additional motivation letter to explain in more detail why you would like to attend.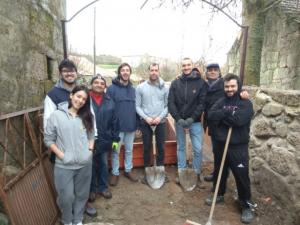 Description: LAR project is a solution for families of refugee's and migrants who have finished government funded integration programs, and are left without sufficient financial support and still haven't found stable jobs or homes. We wish to ensure that we provide work, training and housing for every member of the family - conditions for them to want to stay long-term or permanently in Portugal. At this moment we are finishing the rebuilding works at the houses, to make sure these families will have a proper place to call home. The project is developed in a small village near Guarda, called IMA.
Type of Work: The tasks planned for the volunteers are:
Cleaning of the surrounding areas of the rebuilt houses (waste separation of woods, bricks, plastics, etc.);
Woodcutting and storage of wood for the families;
Preparation of the land for agriculture and help developing the community garden;
Help in daily tasks of the project and in the integration of the migrant families
Study Theme: Social inclusion; environmental responsibility; entrepreneurship; social business and projects; refugee and migrant's support; community work; support of elderly people.
Accommodation: The group will stay together in a house fully equipped with access to kitchen and bathroom. Volunteers prepare their own meals (breakfast, lunch and dinner) on site.
Language: Portuguese is the speaking language in the project. The language used in the workcamp will be English. Spanish and French are both spoken by the volunteer's coordinator.
Requirements: The village is in the highest mountain of Portugal, so bring warm clothes! We don't make difference between boys or girls - despite gender volunteers should be physically strong. As we'll be in touch with different cultures and specific populations (elderly and refugee's /migrants) volunteers should be sensitive, empathic, with an open-minded attitude and the desire to help others and learn.
Approximate Location: The project will take place in a small rural villge called IMA, in Guarda District.
Notes: You should be aware that the workcamp will be in a small village, so you should be passionate by nature and the tranquillity of rural areas. Volunteers will have 2 days off duty so they can explore the surroundings and relax!
Organization Description: Para Onde is a Lisbon-based organization that is mainly focused on promoting social inclusion through volunteering. It was born in 2014 as an informative website and, at the end of 2016, it became an active NGO. Para Onde will allow everyone to have the experience to volunteer abroad despite age, budget and professional background/experience. Suitable training will be guaranteed to all those departing on an experience with SCI International.