Ecological Farming for Saving Our Planet (Marth in Thuringia)
Topic:
11: Climate and sustainable lifestyle
Work Types:
Agriculture / Construction / Environment
Number of places still available:
13
Free places last update:
22 Jun 2020
International age:
18 - 99
Required Language:
English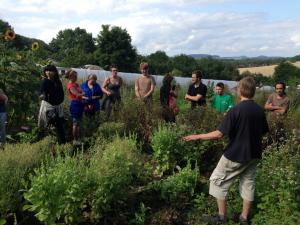 Description: The "Kastanienhof" is a historical timber-framed farm house under preservation order in Thuringia. It is situated in a small village surrounded by a beautiful landscape. The farm house is owned by an association that aims to preserve nature in an ecologically responsible and sustainable way. They conduct organic agriculture on their 2 hectare land with focus on the conservation of old useful plants and native animals. During the second weekend, there will be a trip to a medieval festival where the association sells its own products.
Type of Work: Reconstruction work on the outside of the house, partly with clay, (work on a scaffold!), a little bit of farm work, work with wood, helping at the medieval festival.
Study Theme: Eco house construction and renewable energy (solar, plant oil, biomass), eco agriculture, climate protection; political situation in the countries of the participants.
Accommodation: Sleeping together in big tents or you can bring your own tent. Simple hygienic conditions, bucket toilet, shower outside. Own ecologically grown food!
Requirements: Readiness to do physical work 6 hours daily, ability to adapt to very basic conditions (bucket toilet, outside showers). Bring along a costume for the medieval festival.
Approximate Location: The small village of Marth is located right in the middle of Germany. The area is known for its beautiful landscape and unique culture: there are castles, cathedrals and other ancient monuments and you can even find places of pilgrimage!
Notes: Trips to cities like Göttingen or Hannoversch Münden are possible. Further information: www.kastanienhof-marth.de
Organization Description: This workcamp is organized by the German branch of Service Civil International (SCI). SCI Germany was founded in 1946 and is approved as a non-profit organisation. We are one of the oldest peace and volunteer organisations. SCI Germany aims to promote peace, non-violence, international solidarity, social justice, sustainable development and cross-cultural exchange through international voluntary work. We cooperate with a network of branches and partners in more than 90 countries. Every year, SCI Germany organizes about 50 international workcamps in Germany.