Permaculture (Jänkendorf near Dresden)
Topic:
11: Climate and sustainable lifestyle
Work Types:
Agriculture / Construction / Environment
Number of places still available:
12
Free places last update:
22 Jun 2020
International age:
18 - 99
Required Language:
English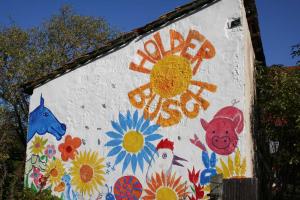 Description: The association Holderbusch runs a farm with about 22 hectares of land for agriculture and pasture. The farm has been changed over to ecological agriculture. The aim of the association is self-sufficiency, based on the permacultural concept. Sustainability and landscape conservation provide the basis for the revitalization of that traditional handicraft. Before you apply, please read basic info on this site first. Here we explain, what we expect from volunteers in our camps.
Type of Work: Depending on the weather various work in the garden and in the fields (prepare plant beds, harvesting, fruit picking, hoeing), build and repair fences for the sheep's, forest care, chopping wood, baking bread, construction and renovating work around the farm.
Study Theme: Permaculture, life in harmony with nature, extensive animal farming in their natural environment, climate protection; community life.
Accommodation: Accommodation inside the barn or in tents, simple sanitary facilities (compost toilet, solar showers). Self-catering with various products from the farm.
Requirements: Cycling ability! Please bring along sleeping bag and insulating underlay! Partly hard and dirty work! You need solid shoes for the work.
Approximate Location: Jänkendorf is located about 70 km east of Dresden close to the border with Poland
Notes: Many free-time activities like volleyball, football, climbingstand, trampolin, biking, several lakes for swimming nearby.
Organization Description: This workcamp is organized by the German branch of Service Civil International (SCI). SCI Germany was founded in 1946 and is approved as a non-profit organisation. We are one of the oldest peace and volunteer organisations. SCI Germany aims to promote peace, non-violence, international solidarity, social justice, sustainable development and cross-cultural exchange through international voluntary work. We cooperate with a network of branches and partners in more than 90 countries. Every year, SCI Germany organizes about 50 international workcamps in Germany.