Planting Climate Solutions
Topic:
11: Climate and sustainable lifestyle
Work Types:
Environment / Manual / Restoration, renovation
Free places for Females:
8
Free places last update:
22 Jun 2020
International age:
18 - 30
Required Language:
English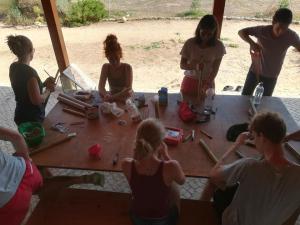 Description: Be part of the solution and help us educate for a sustainable future. Together, we will plant examples of climate solutions at two educational centers - showing people how to reduce energy use, eat locally, plant seeds, reuse and recycle, save water, redesign landscapes, create and purchase fair trade products and take care of our soils, so that future generations of people can live healthy and sustainable lives.
Type of Work: You can expect to be engaged in the following activities and tasks: Create educational landscapes: Creating spaces that demonstrate climate change solutions on the Associations Campus, including an example of "carbon negative" agroforestry /food production, pedagogical nursery, solar cooking space and a "wellness" workshop" for manufacturing of natural health and beauty products Showcase sustainable development: Create pedagogical examples of sustainable development techniques at the NEW Loops campus: creating a "carbon capturing bed" by applying low water consumption and soil regeneration techniques; creating an example of low environmental impact by building with bioconstruction techniques. Event Support: Supporting environmental education actions on the Open Day with the theme.
Accommodation: Accomodation is in tents. Bring your own if you can, if you can't the project will provide one. There are bathrooms and solar showers. The project will provide 5 meals per day (breakfast; Lunch; snack; dinner; supper), Our food ethics is based on following sequence: healthy, local and organic
Requirements: To avoid drugs, and restrain from too much smoking and excessive drinking (there is a designated smoking area) Practice self-care and communicate specific needs Have fun and share fully!
Approximate Location: Quinta do Vale da Lama - Caixa postal nº 322 N, 8600-258, Odiáxere, Lagos