Nature and Community Life in Jilemnice
Topic:
10: Environment protection
Options:
Wheelchair Accessible
Work Types:
Environment / Social
Free places for Females:
4
Free places last update:
07 Apr 2020
International age:
18 - 99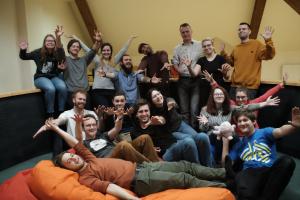 Description: The workcamp will take place in Jilemnice in cooperation with a scout centre and with an initiative MNOHO SVETU. MNOHO SVETU (MANY WORLDS) is a community of people in Jilemnice that is primarily linked by the interest in human rights. They have been organizing a film festival, charity fundraisers and discussions in Jilemnice (and its surroundings) for seven years. They help with charity projects or organize them ourselves. The aim of the workcamp is to acquaint volunteers with Jilemnice and vice versa, to show them the importance of promoting human rights and democracy through a community of active citizens and to learn how to build a community in their countries. It also aims to show the volunteers and the locals the importance of nature conservation.In this workcamp, you are actively working for the United Nations Sustainable Development Goal of Sustainable Cities and Communities (UN SDG11) and Life on Land (UN SDG15).
Type of Work: Work: The work will be diverse and it will take place both in Jilemnice and in the nearby national park. In Krkonose National Park the main task will be the maintenance of forests and meadows (mowing meadows, cleaning forests etc.). Volunteers will also help the nursing home in Jilemnice. You will help residents with their daily activities and refresh their foreign language skills. MNOHO SVETU is setting up a new community centre that will need to be painted and to make minor repairs. Study part: There will be a trip to the mountains in cooperation with the National park Krkonose to explore the area through a new perspective. An excursion will be organized to see the production of glass beads at a company Rautis, which is nominated for a UNESCO list. There will be screening of a human rights movie, a visit to the museum of skiing history and to the biathlon area. There will also be a workshop on bird watching, catching and ringing.
Accommodation: You will stay at a scout centre in Jilemnice and you will be sleeping on bunk beds. Please bring you own sleeping bags There are showers, toilets and a kitchen at the scout centre. Breakfast will be provided from the local canteen by the MNOHO SVETU community. You will prepare your own lunches, dinners and snacks as a group.
Language: eng,
Requirements: The workcamp is suitable for all who are interested in environmental and social problems. Please bring some old clothes that can get dirty or damaged and sturdy shs.
Approximate Location: The workcamp will take place in Jilemnice, which is a small town in the Liberec Region, in the north of the Czech Republic. It has around 5400 inhabitants. The roots of the town go back to the 14th century with many historical monuments preserved in the centre of the town. Jilemnice is called the gateway to the Krkonose Mountains and it is surrounded by picturesque nature.Meeting point: Jilemnice. The meeting time is usually in the afternoon. Please note that it takes over 2 hours to get there from Prague - Cerny Most bus station. The exact information will be provided in the infosheet.Leisure time: Jilemnice has many possibilities for entertainment whether going on trips to nearby ponds or campfire evenings in the woods. Movie nights at the cinema can be arranged. There are many sports opportunities- there is a swimming pool, sports hall and outdoor pitch in Jilemnice. Also international evenings will be organized- please bring your favorite recipes (or special ingredients if needed) to share with other volunteers and locals.
Organization Description: INEX – Association for Voluntary Activities is a non-governmental not-for-profit organisation founded in 1991 to carry out and support international voluntary work and intercultural education. The mission of INEX-SDA is by organising international voluntary projects, educational programs and campaigns to: 1. assist the development of a tolerant and open society and 2. encourage an active and responsible approach to the world around us both locally and globally We create space in which especially (but not only) young people can gain new experience, expand their skills and and develop their own views of the complexity of the world around them.