Topic:
12: Art, culture and local history
Options:
Wheelchair Accessible
Work Types:
Festival / Restoration, renovation
Free places for Females:
8
Free places last update:
19 Mar 2020
International age:
18 - 99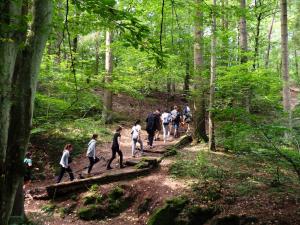 Description: The workcamp is held in cooperation with Local Action Group (MAS) Radbuza and the municipality Kozolupy. The aim of MAS Radbuza is the protection of regional values such as well-preserved nature, rich culture and healthy environment, and supporting citizen initiatives at a local and regional level. Kozolupy is a small but active village and the 2017 Village of the Year Award winner for their social life. The aim of the workcamp is to help the municipality with maintenance of a church, revitalization of orchards and preparations of a rock festival. You will also have an opportunity to experience life in the countryside. In this workcamp, you are actively working for the United Nations Sustainable Development Goal of Sustainable Cities and Communities (UN SDG11) and Life on Land (UN SDG15).
Type of Work: Work: You will help to maintain the local church which will include for example cleaning statues, washing tiles, sanding benches or painting beams. You will also work in an old municipal orchard where you will repair fences, cut old trees and bushes and clean the area. There will be other tasks in the village, depending on the current need. At the ending of the workcamp, there will be a traditional one-day festival Rock Summer on the Mze River, where the volunteers will help mainly with preparations of the event (building stalls and fences) and with cleaning afterwards. You will not have to work a lot during the event, so you can enjoy yourselves during the festival.Study part: Having discussions with local people and the members of the local action group, organizing a football match with the local team, having an international dinner or a barbecue.
Accommodation: In the local cultural centre. You will sleep in one of the halls of the centre on mattresses or gym mats. Please bring your own sleeping bag. There are toilets and showers in the building and also a small improvised kitchen. You will prepare breakfast together as a group, lunch and dinner will be provided in a local restaurant, so you can taste traditional Czech cuisine.
Language: eng,
Requirements: We are looking for responsible and passionate volunteers.
Approximate Location: Kozolupy (1,100 inhabitants)is in the Pilsen Region. It is located near the Hracholusky Dam and about 10 km from Pilsen. The meeting time is usually in the afternoon. Please note it takes nearly 2 hours to get there from Prague. The exact info will be provided in the infosheet.
Organization Description: INEX – Association for Voluntary Activities is a non-governmental not-for-profit organisation founded in 1991 to carry out and support international voluntary work and intercultural education. The mission of INEX-SDA is by organising international voluntary projects, educational programs and campaigns to: 1. assist the development of a tolerant and open society and 2. encourage an active and responsible approach to the world around us both locally and globally We create space in which especially (but not only) young people can gain new experience, expand their skills and and develop their own views of the complexity of the world around them.