Volunteers for Porta Coeli Monastery
Topic:
12: Art, culture and local history
Options:
Wheelchair Accessible
Work Types:
Environment / Restoration, renovation
Free places for Females:
8
Free places last update:
19 Mar 2020
International age:
18 - 99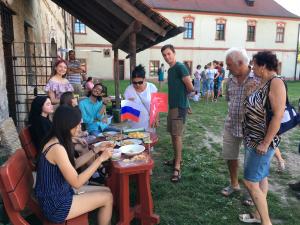 Description: The workcamp takes place in a former school in the Cistercian monastery Porta Cli in Predklasteri near Tisnov (30 km from Brno). During the communist era, it was used by a collective farm and as a book storehouse. With the help of volunteers, some of its old classrooms were rebuilt in the late 90s and then used as a base for volunteer events. The aim of the workcamp is to help restore the monastery as well as the surrounding gardens and orchards and make it open to public. You will work in the area of the monastery and prepare some of its parts for reconstruction works. This international workcamp is organized for the second time and the hosting organization has experience with organizing volunteer days.In this workcamp, you are actively working for the United Nations Sustainable Development Goal of Sustainable Cities and Communities (UN SDG11).
Type of Work: Work: You will mainly do some smaller works in the area of the monastery and prepare some of its parts for reconstruction works. The task will include for example removing old plaster, cleaning bricks or pulling out old floors. You will also work in an old orchard: removing invasive plants, piling up hay, cleaning the millstream, doing some landscaping or gardening etc. You will also prepare an event called Feast of Cultures where you will introduce your countries, cultures and traditional cuisine. Some days you will also help on a local horse farm and also work for the municipality. The work will be varied and adjusted to physical abilities of the volunteers. Study part: You will have an opportunity to visit the monastery on a tour that gs across the most valuable Romanesque parts. You have an opportunity to see the parts of the monastery that are not open to public. You will learn about the history of the monastery connected to the history of Moravia and the Czech Republic.
Accommodation: In the former monastery school. You will sleep in three rooms with bunk beds. Every room has its own bathroom with a shower and a toilet. There is electricity and hot water available in the building. Please bring your own sleeping bag. You will prepare your meals together as a group in an equipped kitchen. A team of two volunteers will prepare each meal so that you can present your home cuisine. Please bring your favourite recipes. If you have a special diet, please let us know in advance. There is a washing machine and wi-fi in the building.
Language: eng,
Requirements: The workcamp takes place in the area of the monastery with a community of three nuns still living there, so it is necessary to behave respectfully. The place where the nuns live is not in the same building as the accommodation for volunteers, but it is necessary to respect the quiet hours at night and not to consume hard alcohol. You will have an opportunity to enjoy the night life during your trip to Brno.
Approximate Location: Predklasteri. A small village (1,400 inhabitants) about 30 km from Brno. It is situated in a picturesque landscape and it is considered to be the gateway of the Bohemian-Moravian Highlands. Leisure time: Sightseeing in the region (the Pernstejn Castle and religious sights in the valley of the Svratka River between the towns of Tisnov and Pernstejn). Hiking in the countryside or a guided tour in Brno city centre can be arranged. You can also visit local caves, a horse riding hall or 3D archery range. Fun games and activities will be prepared for you by the organizers.
Organization Description: INEX – Association for Voluntary Activities is a non-governmental not-for-profit organisation founded in 1991 to carry out and support international voluntary work and intercultural education. The mission of INEX-SDA is by organising international voluntary projects, educational programs and campaigns to: 1. assist the development of a tolerant and open society and 2. encourage an active and responsible approach to the world around us both locally and globally We create space in which especially (but not only) young people can gain new experience, expand their skills and and develop their own views of the complexity of the world around them.