Organic Farming at Camphill Community
Topic:
12: Art, culture and local history
Options:
Wheelchair Accessible
Work Types:
Agriculture / Restoration, renovation
Free places for Females:
5
Free places last update:
19 Mar 2020
International age:
18 - 99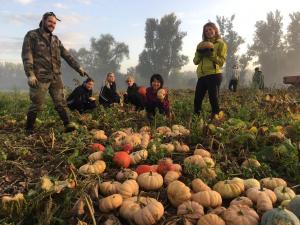 Description: The workcamp is organized in cooperation with the Free Farm, an NGO which is part of the Camphill Community movement. This family-like community provides space both for people with special needs and for those without disability to work and live together. The community members can develop their skills in agriculture, bee wax candle making and cooking. The farm grows organic vegetables and herbs. It promotes the importance of biodynamic agriculture and the role of farmers in todays world. The host organization considers the farm and the countryside to be one living organism which needs to be taken care of responsibly with human touch and heart. The Free Farm sells vegetables that it produces, but making profit is not its main goal. It strives to develop cooperation with other farmers and to create direct relationship with individual consumers using the concept of community-based agriculture.In this workcamp, you are actively working for the United Nations Sustainable Development Goal of Responsible Production and Consumption (UN SDG12).
Type of Work: Work: Manual work is highly appreciated at the Free Farm. Its agricultural project couldnt be maintained without volunteers. Most common tasks on an organic farm are: weeding, planting, hing, harvesting, cleaning, storing, watering, collecting herbs, etc. The work is usually physically demanding, but it is manageable if we all work together. You can also enjoy fresh air, while working outside. In the autumn, you will help mainly with the harvest, cleaning and storing vegetables, or gardening (e.g. planting trees or bushes). You can also help with preparing herb mixtures. The house and its surroundings are being renovated on regular basis, so some minor construction and renovation works can also be done depending on current needs. Bring good working clothes, solid shs, and a raincoat. The fields are located within walking distance (app. 500m) from the accommodation.Study part: Learning about the Camphill movement, Rudolf Steiners anthroposophy, living in a community, and biodynamic agriculture. Learning about Czech Republic, each others cultures and other related topics. It will also be possible to organize workshops on e.g. bee wax candle making, eurythmy and intuitive pedagogy. If you are interested in organizing an international evening for everyone to present their national cuisine and culture, there will be space for it. Its up to your initiative. Bring your favourite recipes and some specific ingredients if needed.
Accommodation: In 1 attic room on mattresses. Bring a sleeping bag A common room, 2 showers with hot water and 2 toilets are available. Local partner will provide food and vegetables from the farm for cooking (vegetarian diet is possible). You will prepare breakfasts and dinners on your own as a group, lunches will be prepared by all the members of the community with help of volunteers.
Language: eng,
Requirements: The workcamp is suitable for people who are interested in farming and learning about the community. Please bring enthusiasm and good mood. As you will stay in the place for people with mental disabilities, there are certain rules you are asked to respect: smoking and consumption of alcohol within the community area are restricted, and it is necessary to respect the privacy and night rest of the inhabitants. Be aware that some members of the community dont speak English.
Approximate Location: Ceske Kopisty ( a small village near the historical town of Litomerice. The farm uses 11 hectars of fields; there is a garden and a yard with a couple of animals (a cow, a horse, chicken, ducks, pigs). The area is quite vast ( there are 3 residential houses, a candle workshop and a common hall. There are 8 adults, 4 children and 7 people with special needs living there. You might meet around 10 other external co-workers. Leisure time: Barbecue with the members of the community, playing football, visiting the local pub, swimming in the river, visiting the nearby Terezin Memorial at the location of the former concentration camp for Jews ( the Terezin Ghetto, going for trips to the nature protected area of Ceske Stredohori (historical cities of Litomerice, Usti nad Labem, castles, beautiful countryside) etc.
Organization Description: INEX – Association for Voluntary Activities is a non-governmental not-for-profit organisation founded in 1991 to carry out and support international voluntary work and intercultural education. The mission of INEX-SDA is by organising international voluntary projects, educational programs and campaigns to: 1. assist the development of a tolerant and open society and 2. encourage an active and responsible approach to the world around us both locally and globally We create space in which especially (but not only) young people can gain new experience, expand their skills and and develop their own views of the complexity of the world around them.