Let s Cultivate Our Landscape
Topic:
10: Environment protection
Options:
Wheelchair Accessible
Work Types:
Environment / Social
Free places for Females:
4
Free places last update:
02 Jul 2020
International age:
18 - 99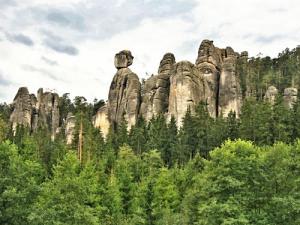 Description: Julinka is an association with more than 20 members who are actively working towards promotion of active citizenship, volunteering, ecology, tourism and the preservation of cultural heritage. Some of the association s activities include the organization of the One World Festival, craft day, prevention of erosion, etc. The aim of this workcamp is to draw attention to the problem of desiccation of landscape and to show a possible way how to promote water retention in the soil, inspire locals and motivate them to join voluntary ecological activities. It also aims to promote community life and to offer the local community of Adrspach to meet all the volunteers, learn about their cultures and practice other languages. In this workcamp, you are actively working for the United Nations Sustainable
Type of Work: Work: The work will mainly consist of manual activities in nature. You will manually dig holes to make water pools, work in the forest (cleaning paths and roads for better access), clean the surroundings of a pond or a riverbed. You will also help with some activities in of the Adrspach castle. The new school year will start at the beginning of September, so you will have a chance to meet local school children and prepare some presentations and activities about your country and culture. Bring something special from home which could be suitable for such an activity (games, music, pictures, etc.).Study part: There are some field trips planned for volunteers to get to know the protected landscape area Broumovsko, especially the rock towns but also some Baroque buildings. There will be a possi
Accommodation: The volunteers will stay in a lodge in the centre of Adrspach with the beautiful view of the Adrspach-Teplice rocks. There are 4 bedrooms (2-4 people) with beds (bedsheets and blankets provided), a bathroom, 2 toilets, a common room, kitchen, terrace and a garden. You will prepare your own meals as a group, sometimes you will bring your lunch with you.Please bring a lunchbox. For more info about accommodation: http://accommodation.adrspach.org/
Language: eng,
Requirements: This Workcamp is suitable for those who are interested in nature and ecology, who like being outside and are eager to learn new things about nature protection. Please bring a hat, tick repellent, waterproof clothes and shs (rubber boots), optionally a sleeping mat and sleeping bag (weekend trip) and lunchbox. Due to the workcamp topic, we prefer you do not take the plane in order to participate. W
Approximate Location: Adrspach and the surrounding, in the Northeast of Bohemia. The village has approx. 500 inhabitants, it is situated under the ruins of a castle and near the very famous rock area of Adrspach-Teplice rocks in the protected landscape area Broumovsko. The work will take place both in the village and in its surroundings. Leisure time: You will be able to explore the area through all kinds of activities such as rock climbing, cycling, walking, sightseeing, visiting robotic a cowshed, bathe in ponds/swimming pools. There are football and volleyball fields in the village. We can go to a concert, movie
Organization Description: INEX – Association for Voluntary Activities is a non-governmental not-for-profit organisation founded in 1991 to carry out and support international voluntary work and intercultural education. The mission of INEX-SDA is by organising international voluntary projects, educational programs and campaigns to: 1. assist the development of a tolerant and open society and 2. encourage an active and responsible approach to the world around us both locally and globally We create space in which especially (but not only) young people can gain new experience, expand their skills and and develop their own views of the complexity of the world around them.