Community Life, Solidarity and Sustainable Lifestyle (Cologne)
Topic:
11: Climate and sustainable lifestyle
Work Types:
Environment / Restoration, renovation / Study, discussion, research
Number of places still available:
12
Free places last update:
18 Jun 2020
International age:
18 - 26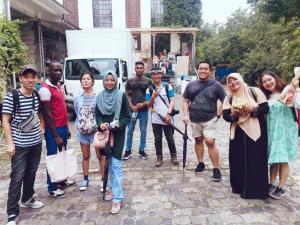 Description: In dem Arbeiterviertel in Köln hat die "Sozialistische Selbsthilfe Mülheim" ihr am Rhein gelegenes Domizil. Hier kann jede*r mitmachen: Obdachlose und Arbeitslose, Menschen mit Sucht- und krimineller Vergangenheit, Familien mit Kindern, Menschen, die sich in der bestehenden Ordnung nicht zurechtfinden oder nicht zufrieden sind. Die Gruppe hat eine alte Fabrik restauriert. Sie lebt von Umzügen und Wohnungsauflösungen, unterstützt den Aufbau sozialer Projekte, hilft Bedürftigen und kümmert sich um die Stadtgestaltung. Eine Güterhalle soll bald einen Gebrauchtmöbelverkauf, einen Veranstaltungsraum, Werkstätten und ein Café beherbergen. Außerdem werdet ihr mit der Hilfe von Second-hand Materialien der SSM künstlerisch aktiv. Dabei lautet das Motto "Second-hand ist Klimaschutz!".
Type of Work: Hilfe bei Umzügen oder beim Möbelverkauf und in der Küche, Verkauf von Secondhand-Möbeln und Kleidung, Gartenarbeit, Gestaltung und Umnutzung von Second-hand Gegenständen, Kunstprojekt
Study Theme: Geschichte des Projekts SSM; Gemeinschaftsleben, verschiedene soziale und nachhaltige Lebensweisen, Second-hand und Nachhaltigkeit. Außerdem wird es vom 12.-14.06. ein Wochenendseminar zum Thema Klimawandel und Klimagerechtigkeit geben. Dabei sollen globale Perspektiven aus Süd und Nord ausgetauscht und mit dem lokalen Projekt der SSM verknüpft werden.
Accommodation: Zu viert in Mehrbettzimmern, ggf. auch auf Matratzen. Alle Workcamp-Teilnehmenden sind dafür verantwortlich die Unterkunft sauber zu halten. .
Language: English
Requirements: Lust auf körperliche Arbeit im Team und draußen; Interesse an sozialen und solidarischen Lebensmodellen; Lust mit Menschen verschiedener Hintergründe zusammenzuleben, voneinander zu lernen und seine Erfahrungen auszutauschen; Interesse am Thema Klimawandel und Klima(un)gerechtigkeit und Lust auf inhaltliche Arbeit (während des Wochenendseminars); Eigeninitiative und Kreativität werden erwartet!
Notes: Dieses Workcamp ist ein Süd-Nord Workcamp, das heißt, dass aktive Freiwillige von unseren Partnerorganisationen aus dem Globalen Süden daran teilnehmen. Bitte bringe Arbeitskleidung mit.
Organization Description: This workcamp is organized by the German branch of Service Civil International (SCI). SCI Germany was founded in 1946 and is approved as a non-profit organisation. We are one of the oldest peace and volunteer organisations. SCI Germany aims to promote peace, non-violence, international solidarity, social justice, sustainable development and cross-cultural exchange through international voluntary work. We cooperate with a network of branches and partners in more than 90 countries. Every year, SCI Germany organizes about 50 international workcamps in Germany.