Work&ride: help at the horse farm-2
Dates to be confirmed - apply later

Country:
Russian Federation
Topic:
11: Climate and sustainable lifestyle
Work Types:
Construction / Manual / Work with animals
Free places for Females:
5
Free places last update:
27 Feb 2020
International age:
18 - 99
Required Language:
English
Spoken Language:
English, Russian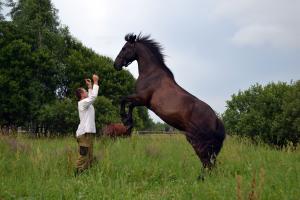 Description: Equestrian and tourist complex "Riding on Meshchera" is located in the village of Orekhovo, Ryazan region, away from the bustle of the city. It is surrounded by untouched nature of the Oka reserve, fascinating pine forests, birch groves, fields of flowers and fragrant herbs, rivers with clean water. There is a stable for 8 horses on the territory. All horses are very well-groomed, healthy, kind and affectionate. At any time, they can be approached, stroked, hand-fed sugar or carrots. The project tries to revive the dying village of Orekhovo, giving an opportunity to people who are used to the city life to feel real land, manual labour, enjoy gardens, fields, horses, cows and true nature.
Type of Work: Volunteers will take the following duties: working with horses (cleaning, walking to the pasture, training in case you have an experience); helping with construction tasks (building of a new house and horse corral, finishing the camping site) and general maintenance of the territory (repairing of fences, preparation of poles; cleaning the remains of old manure; gardening, etc). Tasks may vary depending on the current needs, so be open to new challenges! Work is about 5-6 hours a day with days-off.
Study Theme: Volunteers can learn to ride, learn the habits of horses, understand how horses actually live, to get to know more about rural life and different aspects of living in a Russian village. In the spare time, many activities are planned: horse- riding on scenic routes, visiting the nurseries of bison and cranes of the Oka reserve, visiting the Museum of rural life and the Museum of space, swimming in the river, kayaking and many others!
Accommodation: Camping site: 2-person and 3-person tents will be provided. You can bring your sleeping bag and mat, but they can be provided as well. There are organic toilets and summer showers (with solar and electric heating). In case of bad weather conditions, a group will be accommodated in the building. Volunteers will be provided with all the basic products, cooking in the groups. There is a shop nearby that can be visited to buy sweet treats for you (and favourite horse) every few days :) Also there is a special fireplace to spend time altogether in the evening and true Russian sauna called "banya"!
Requirements: Preliminary knowledge on horse-caring is not required, but interest in the subject will be a big asset!
Approximate Location: Ryazan region, Orekhovo village (300 km from Moscow). All participants are going to be met by the local host at the bus stop near Ryazan and taken to the campsite.
Notes: Please keep in mind that entrance to museums and cultural sights is paid by volunteers.
Organization Description: Non-governmental and non-profit making organisation "Passage-Zebra" is active in Russia since 1998. Main fields of activities: international workcamps (in Russia), long-term volunteering in natural preserves and parks, study projects with language learning and teaching (including Russian language), building cultural bridges.