Food Bank of Rende Community
This project is part of the SCI North South Programmes. Volunteers should be 20 years old, have previous volunteering experience and take part in the Preparation Workshops organised by their sending branch. More details from your sending branch.

Camp code:
TW-VYA 12.2013
Country:
Taiwan, Republic of China
Topic:
12: Art, culture and local history
Free places for Females:
4
Free places last update:
28 Feb 2020
International age:
18 - 99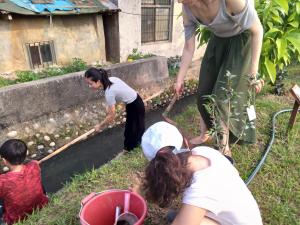 Description: Our market is a traditional market in the morning and a night market in the evening. A lot of food is wasted during these processes. At this time, international volunteers need to beautify the appearance of our food bank through the reuse of environmentally friendly recycled materials. We will also use recycled election flags to make environmentally-friendly cup bags or shopping bags available to market stalls to reduce waste generated during shopping.We want to promote the importance of recycling for the environment.
Type of Work: 1.Accompany the elderly: Our community holds health activities every Monday, Tuesday, and Thursday morning. We want volunteers to participate and design fun activities so that older people can experience different cultures, entertain and learn new things from different perspectives. 2.Help the decoration of food banks: Volunteers need to use recycled materials for decoration, so that everyone understands the importance of resource reuse. 3.Make ECO-friendly items: Use clean recyclables to make practical things such as bags. 4.Cultural exchange activities: We will have time for volunteers to show each other their cultural traditions. In order for the event to run smoothly, volunteers can prepare events that will allow us to learn more about your culture.
Accommodation: 1) All the volunteers will stay in share room of the Community Center together. Volunteers need to bring sleeping bag by themselves. 2) Most of food will be provided by community, and some time we will combine activities (for example: visit night market) with meal, at that time we will provide pocket money to volunteers.
Approximate Location: Location: Rende Community Activity Center Adress: No. 116, Xinyi St., Wuri Dist., Taichung City 414, Taiwan
Google Map: Rende Community Activity Center https://goo.gl/maps/68x1RK6mzDzZGj669