Taiwan Halloween in Da Zhuang village
This project is part of the SCI North South Programmes. Volunteers should be 20 years old, have previous volunteering experience and take part in the Preparation Workshops organised by their sending branch. More details from your sending branch.

Camp code:
TW-VYA 12.2014
Country:
Taiwan, Republic of China
Topic:
12: Art, culture and local history
Work Types:
Art / Teaching / Festival
Free places for Females:
4
Free places last update:
27 Feb 2020
International age:
18 - 99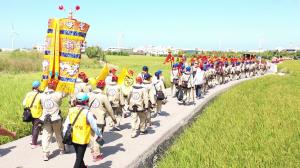 Description: Dazhuang Community, is situated in Taichung port district. It has agricultural culture and is the largest community in Wuqi District. The impacts of the urban and traditional cultures made Dazhuang Community such a unique cultural feature. Of all communities in Wuqi District, Dazhuang Community has the most elderly and young population. One out of every nine people is an elder. Therefore, Dazhuang community has dedicated to taking care of the elderly for a long time, and is going to organize more plans and activities for teenagers in 2020. With more volunteers joining this work camp, we hope that they can offer the elderly and the young better care and education and breathe new life into this community.
Type of Work: 1) Accompany the elderly: Our community holds health activities three times a week. We expect volunteers to take part in, design some interesting games and prepare some performances, so the elders can experience different cultures, have fun, and learn new things from different perspectives. 2) To prepare an cultural event for the local elementary school students, bring the global view into their world, and intrigue them. 3) Get to know the typical culture of "God of Land" in Taiwan and share similar festival culture in your own countries with local. 4) To experience folk belief of Taiwan: Introduce "Din Tao", which is described a type of religious team in Taiwan. Din Tao was adapted for a movie and it moved many foreigners to tear.
Accommodation: 1) All the volunteers will stay in the community center together. Volunteers need to bring toiletry and summer sleeping bag by themselves. 2) Everyone will have a cabinet to deposit his/her luggage. 3) Volunteers can hang and dry their clothes at the designated place on the third floor. 4) We offer hangers, brushes, and washing soap. Volunteers can prepare these things by themselves if needed.
Approximate Location: Location: Dazhuang Community of Taichung City, Taiwan No.1, Ln. 168, Wenhua St., Wuqi Dist., Taichung City 435, Taiwan
Google Map: https://www.google.com/maps/place/%E5%8F%B0%E4%B8%AD%E7%B8%A3%E6%A2%A7%E6%A3%B2%E9%8E%AE%E5%A4%A7%E5%BA%84%E7%A4%BE%E5%8D%80%E7%99%BC%E5%B1%95%E5%8D%94%E6%9C%83%EF%BC%88%E9%95%B7%E5%A3%BD%E4%BF%B1%E6%A8%82%E9%83%A8%EF%BC%89/@24.2467169,120.5407153,17z/data=!3m1!4b1!4m5!3m4!1s0x346914db2e4c6917:0x1b4db9fa3d9e49bd!8m2!3d24.2467169!4d120.542904