Country:
United States of America
Topic:
1: Antiracism, antifascism, remembrance
Work Types:
Construction / Peace / Restoration, renovation
Free places for Females:
8
Free places last update:
04 Mar 2020
International age:
16 - 90
Extra fee to be paid in the hosting country:
100.00 US Dollar
Breakdown:
Accommodation and food: 0.00 US Dollar
Transportation: 0.00 US Dollar
Activities: 0.00 US Dollar
Hosting organisation support: 100 US Dollar
Purpose of extra costs:
Due to the lack of funds in the community, there will be a participation fee of $100. This camp will be open to extended stays after the camp ending, if arranged with the sponsor.
Required Language:
English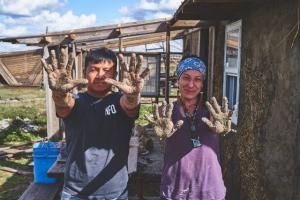 Description: This workcamp is in cooperation with Tiyospaye Winyan Maka (Lakota for Extended Family of Women of the Earth ), and OLCERI (Oglala Lakota Cultural & Economic Revitalization Initiative ), two Lakota Sioux nonprofits. Tiyospaye Winyan Maka, a small, grassroots non-profit from Colorado, has had a mission since its inception - "to promote energy, housing, education, and nutritional sovereignty for indigenous women and families". OLCERI, based on the Pine Ridge Reservation, aims to open the path to creating a sustainable food supply, means of energy, clean water, and adequate shelter while enabling spiritual well-being and health of the Lakota community.
Type of Work: Assisting in the construction of a community center/school using Earthship technology. Experience in construction work, plumbing or electrical work will be very welcome, but not necessary.
Study Theme: The Lakota culture, earthship building, permaculture.
Accommodation: In tents or tepees. Food will be prepared in a group kitchen. Vegan ingredients are available. The Reservation is isolated, so some amenities may not be available, but there will be occasional visits to local towns. There will be lots of interaction with local people. Drugs and alcohol are strictly forbidden.Volunteers must not be afraid of dogs or horses.
Approximate Location: State of South Dakota, United States of America
Notes: Because of the isolated location, only limited electronic media may be available. A weekend trip will be provided to the Black Hills, a Lakota sacred area. There will be other groups working at the same time, including Water Protectors from the Dakota Pipeline Encampment, Engineers without Borders volunteers, and permaculture volunteers.