Reifenmill - Tales from the Green Valley (Mörz near Kastellaun)
Topic:
11: Climate and sustainable lifestyle
Work Types:
Agriculture / Environment / Cultural heritage
Number of places still available:
10
Free places last update:
05 Jun 2020
International age:
18 - 99
Required Language:
English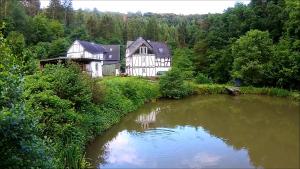 Description: The Reifenmill, a running, power generating, watermill, is located in a steep valley of the hilly Hunsrueck region in south-western Germany. Surrounded by forests the next rural village is 3 km away, another little town about 10 km. The Mill is off-grid, water is sourced from a small spring, electricity is produced with the waterwheel, food is coming mostly from the garden and there are chicken, rabbits, honey-bees and a fishpond. The remote and historic place is looked after by two brothers, experimenting in ways and techniques of modern and old sustainable living.
Type of Work: The aim is to practice holistic living, establish a permaculture garden; above all maintain and preserve the historical waterpower-system, raise small stock animals, sustain the woodland and meadow with scattered fruit trees.
Management and maintenance of the green valley, the millers-creek, fish pond, meadows and woodland, especially repair of the creeks embankments (manual labor with rocks and boulders in the water!)
General garden/farm work, building raised beds, fencing, planting
Looking after the animals, fishing
Wood Work, Handicrafts, constructing small shelters, repair paddocks
Mapping out the local ecosystems, characterizing different plants and animals.
Study Theme: - Eco- agriculture, aquaculture, permaculture, gardening, raising small scale farm animals
Learning to cook (regional) dishes with products from the farm
Renewable Energy (water power), climate protection
Habitat and species protection, geology, exploration of flora and fauna
history of the place and region
Accommodation: In medium sized tents or bring your own. Simple sanitary conditions with solar heated outdoor shower and compost toilet. Cooking is done in a covered open air kitchen and open fire cooking on rocket stove/smoker/bonfire. Organic veggies from the garden, some eggs from the chicken, carp from the pond, little to no other meat. Please bring outdoor clothes, good shoes/boots, a warm sleeping bag and thick ground pad and be prepared for cold nights in the valley.
Language: Camplanguage is English. It´s likely you will have a bit of contact to the villagers in Mörz, so there will be the possibility to speak a little German.
Requirements: Readiness to do physical work 6 hours daily, ability to adapt to very basic conditions (bucket toilet, outside showers). Enjoying farming work with all its many and varied challenges and possibilities. Curiosity to learn, try and develop new skills. Mindfulness, team-spirit and self-initiative desired.
Approximate Location: Mörz, the little village on the ridge above the Miller's valley, is 10 km to the north west of Kastellaun. Latest from there you will have to walk, but the project will try to organize collective pick-ups from Kastellaun.
Notes: Trips to the rivers Mosel and Rhine are possible within an hour from Kastellaun, lot's of history, castles, the biggest wine growing region in Germany. The next real city is Koblenz (1,5 hours by bus). The longest rope-suspension bridge north of the alps is just a 3 hour hike. From the 07/31 to 08/02 the biggest outdoor Techno/Rave Festival in Europe is celebrated in Kastellaun (https://www.nature-one.de/en/). At the same time another open air music festival is held nearby, this one features more Blues/Rock/Folk, the location is close to Hahn airport (https://www.lott-festival.de/).
Organization Description: This workcamp is organized by the German branch of Service Civil International (SCI). SCI Germany was founded in 1946 and is approved as a non-profit organisation. We are one of the oldest peace and volunteer organisations. SCI Germany aims to promote peace, non-violence, international solidarity, social justice, sustainable development and cross-cultural exchange through international voluntary work. We cooperate with a network of branches and partners in more than 90 countries. Every year, SCI Germany organizes about 50 international workcamps in Germany.