Online Workcamp: Searching for Traces of Forced Labour: a Digital Photography Project
Topic:
1: Antiracism, antifascism, remembrance
Special Topics:
No more war!
Options:
Wheelchair Accessible
Work Types:
Archaeology / Art / Study, discussion, research
Number of places still available:
0
Free places last update:
17 Aug 2020
International age:
18 - 99
Required Language:
English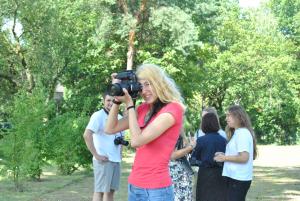 Description: The Nazi Forced Labour Documentation Centre is located in Berlin on the grounds of an almost completely intact former forced labour camp. It focuses on a forgotten victim group: civilian forced labourers from all over Europe forced to work for the Nazi regime during the Second World War. At the core of the project is a photographic exploration of the past and present aspects of forced labour.
Type of Work: In the first part, international volunteers will learn more about forced labour during National Socialism and get an introduction to photography by a professional photographer. In the second part, the volunteers will be invited to search for traces of forced labour in their home countries. They will be documenting their results with the camera. As a result of the project, the photos and the volunteers' stories will become part of an exhibition that will be shown in the Nazi Forced Labour Documentation Centre.
Study Theme: Historical and contemporary forms of forced labour, memory of Nazi forced labour
Accommodation: It isn't needed.
Language: For this camp a good knowledge of English is required.
Requirements: Interest in the history of National Socialism. Interest in photography. No significant prior experience in photography or professional equipment is required. To participate in the digital meetings a device with webcam and microphone is required. We will be meeting online every day between 12:00 and 14:00 GMT (it is between 14:00 and 16:00 German time). There will be no meeting on 23.08.2020.
Approximate Location: Online.
Notes: There will be other opportunities to communicate between the meetings.
Organization Description: This workcamp is organized by the German branch of Service Civil International (SCI). SCI Germany was founded in 1946 and is approved as a non-profit organisation. We are one of the oldest peace and volunteer organisations. SCI Germany aims to promote peace, non-violence, international solidarity, social justice, sustainable development and cross-cultural exchange through international voluntary work. We cooperate with a network of branches and partners in more than 90 countries. Every year, SCI Germany organizes about 50 international workcamps in Germany.