Topic:
12: Art, culture and local history
Work Types:
Archaeology / Restoration, renovation
Free places for Females:
5
Free places last update:
10 Mar 2020
International age:
18 - 99
Required Language:
English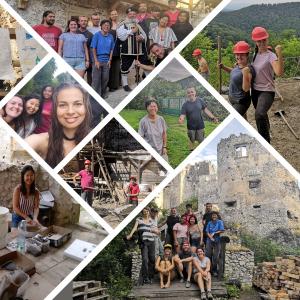 Description: The association Obcianske zdruzenie Hrad Uhrovec was established in the year 2015 and since then their main goal is the reparation of the ruins and promoting the Uhrovec Castle. The association works as an information and promotional centre providing information about Uhrovec Castle and the area where it is located.
Type of Work: Work will be aimed to help with the renovation of ruins of the Uhrovec castle from 13th century. The volunteers will help with archaeological activities and they will learn about the history of the castle and traditional masonry techniques. The volunteers will help with renovation of the castles walls, masonry work, cleaning the area of the castle, the stabilization of the access road and tourist path to the castle.
Accommodation: The Uhrovec Castle is situated on the Strazovske vrchy. This is a unique possibility for volunteers to experience one week in the beautiful surrouding of the castle without electricity and wifi signal, 2 km far from the civilization. Accommodation will be provided in the renovated historical building in the castle. There is possibility to sleep in the tents in the forest camping place. There is no heating and the nights are cold. Bring a warm sleeping bag and a mat. There is no electricity in the castle - only candles and torches (it is highly recommended to bring your own). There are outdoor showers and the toilets are dry (outhouses). There will not be access to running water, so water will be delivered. A kitchen with a small camping gas cooker will be used for preparing meals. The volunteers will help with cooking. On request, vegetarian meals can be provided.
Language: eng,
Requirements: Bring a warm sleeping bag and a mat, working clothes and gloves, warm clothes, raincoat, strong boots, torch, and a smile on your lips :) You can also take musical instruments and something typical from your country that you would like to share with other volunteers and the local community.
Approximate Location: The castle is located near the village UhrovskE Podhradie. The castle is surrounded by beautiful nature and with several possibilities for hiking.
Notes: Attention: HLC – Hard living conditions. The camp is for history and nature lovers and for those who are not afraid to accept the challenge of living in difficult conditions for two weeks surrounded by beautiful nature! For more info about the project and the history of the castle please access: http://www.hraduhrovec.sk/
Summary: Take working clothes and be ready for adventures! In Uhrovec you will have an unforgettable experience while renovating an old Slovak castle far from civilization!