SCI's Origin, 1st workcamp of our history: Same place, different work 100 years later
Topic:
3: International solidarity
Work Types:
Manual / Peace / Restoration, renovation
Number of places still available:
8
Free places last update:
08 Jul 2020
International age:
18 - 99
Required Language:
English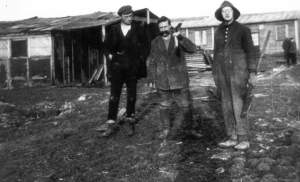 Description: 100 years ago, Pierre Ceresole invited people from different countries to come to Esnes-en-Argonne in order to rebuild houses that had been destroyed during the WW1. This was the very first workcamp of what would become Service Civil International! Nowadays, in commemoration of SCI's origin we are running a project in the same village as Pierre Ceresole did 100 years ago. The work will be different, anyway, the camp will be focusing on SCI and peace promotion history. It will be an opportunity to discover and integrate our values in order to spread them after the camp
Type of Work: The work during the camp will be diverse like clearing a graveyard meaning weeding or cutting woods, renovating a former presbytery now used as a public building, setting up an exhibition about SCI's history. Beside the work that will be taking place during the day, the idea of this camp is also to recount SCI's history. Especially talking about its values such as peace promoting, international solidarity, non violent conflict resolution.
Study Theme: The study theme is about SCI. History, where it started, how it grew, what it has become, exchanging about what it could become in the future. The theme is really into its value and therefore discussions and presentations will take place during the evening
Accommodation: Volunteers will be sleeping inside a former presbytery with beds and mattress. Volunteers have to bring with a sleeping bag and a pillow! Volunteers will have to organise the daily life (cooking, grocery shopping, cleaning) by themselves
Language: English will be used mostly between volunteers and French with local people and partner
Requirements: Volunteers are asked to bring with work gloves and good safe shoes.
Approximate Location: Esnes-en-Argonne, eastern France
Organization Description: La branche française du mouvement, créée en 1936 et actuellement à Lille.