French for students. Online classes
Topic:
7: Children and youth
Work Types:
Teaching / Language study
Number of places still available:
4
Free places last update:
14 May 2020
International age:
21 - 99
Required Language:
French
Motivation letter:
This camp requires an additional motivation letter to explain in more detail why you would like to attend.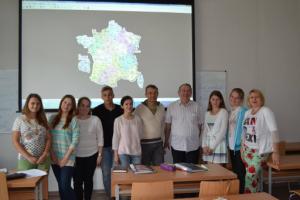 Description: The annual French Summer School is an intensive French course which provides opportunities for spiritual growth, challenging work and fun. The objectives of this formation are:
to improve French language skills
to investigate teaching methods of French as a foreign language as practiced in universities and other educational establishments
to set up an exchange about French and Ukrainian cultures, as well as on the Francophone and the European construction. The Ukrainian Catholic University (UCU), based in Lviv in one of the best humanitarian universities in Ukraine. University gives secular education following best western standards with some religious elements. University authorities pay a big attention to international cooperation and intercultural learning.
Type of Work: This year due to the situation, this course will be conducted online on the Zoom platform. Planned schedule: everyday lessons for 1,5 with 30 min. break and idividual lessons for 1 h. After lunch 1-1,5h everyday activities together with teachers.
Detailed schedule can be send upon request.
Study Theme: As well as teaching French and develop new teaching, group management and philosophy skills, this year volunteers will have chance to improve knowledge on digital tools use and online teaching skills.
Accommodation: The course will be held in Zoom.
Language: Due to the fact that this project is aimed on improving the french skills of the students, this project is for French native speakers only or peoples with fluent French.
Requirements: A motivation letter is required for registration. Alcohol is strictly forbidden on the project site. The religious component is an integral part of the whole program.
Organization Description: All-Ukrainian Association for youth Co-operation "Alternative-V" - is a non-political, non-profit non-governmental organisation, founded in 1992. Alternative-V was created to facilitate co-operation between youth organisations, to involve Ukrainian young people into programmes on the national and international level in the fields of education, culture, ecology, historical heredity protection and helping disadvantaged people. Alternative-V wants to contribute to development of more peaceful society, to the decrease of social injustice. The Association obtained all-Ukrainian status in 1999. Alternative-V is a member of: - CCIVS (the Co-ordinating Committee for International Voluntary Service); - The Alliance of European Voluntary Service Organisations. Alternative-V is a partner organisation of: - SCI (Service Civil International)