Contemporary Witnesses on Forced Labour in WWII (Augustaschacht Memorial, Georgsmarienhütte near Osnabrück)
Topic:
1: Antiracism, antifascism, remembrance
Work Types:
Archaeology / Art / Study, discussion, research
Number of places still available:
10
Free places last update:
16 Jun 2020
International age:
18 - 99
Required Language:
English
Spoken Language:
English, German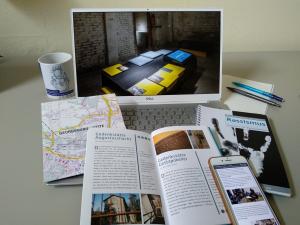 Description: During World War II more than 2000 people from 17 countries were kept as prisoners in this concentration camp set up by the Gestapo. The main groups of prisoners were forced labourers who came from the Netherlands and the former Soviet Union. Their punishment also used to serve as a deterrent to more than 25.000 other women, men and children who were forced to do labour. Almost half of them came from the Ukraine, Belarus, and Russia. The memorial site Augustaschacht has been gradually built in the last 20 years thanks to the involvement of volunteers. It displays Osnabrueck's history concerning the Nazi-time. The volunteers in this camp will support the archaeological documentary work and learn more about the history of WW II and its consequences for Russian, Ukrainian and German people.
Type of Work: Assistance in recording and documenting the archaeological findings recovered in past years' excavations, for example a former prisoner brand, under professional archaeological guidance. Preservation of the art installation "Erneuerung der Erinnerung" (Renewal of Memory).
Study Theme: WWII history; strengthening awareness about forced labour, based on specific examples; Nazi history, its causes and effects. This year, one focus will be on the new permanent exhibition at the Gestapokeller and Augustaschacht memorials on police violence and forced labour under National Socialism. The exhibition is trilingual: German, English and Dutch.
Accommodation: In a house of the German Red Cross (Local group Holzhausen). A large dormitory with beds, self-catering kitchen, sanitary facilities and a large lounge. As we intend to make our workcamps more climate-friendly, we want to inspire our workcamp groups to prepare their meals based on a vegetarian/plant-based diet and provide info materials with recipes and other practical hints for that.
Language: English
Requirements: Volunteers must be open-minded, able and willing to participate in archaeological documentation, be open for new perspectives, interested in the topic and intercultural encounters, and speak good English.
Approximate Location: Georgsmarienhütte is a village close to the university city of Osnabrück in Lower Saxony. Trips to Osnabrück and the Netherlands are planned.
Organization Description: This workcamp is organized by the German branch of Service Civil International (SCI). SCI Germany was founded in 1946 and is approved as a non-profit organisation. We are one of the oldest peace and volunteer organisations. SCI Germany aims to promote peace, non-violence, international solidarity, social justice, sustainable development and cross-cultural exchange through international voluntary work. We cooperate with a network of branches and partners in more than 90 countries. Every year, SCI Germany organizes about 50 international workcamps in Germany.