Racism, Exclusion and Extermination (Buchenwald Concentration Camp Memorial near Weimar)
Topic:
1: Antiracism, antifascism, remembrance
Work Types:
Archaeology / Manual / Peace
Number of places still available:
18
Free places last update:
18 Jun 2020
International age:
18 - 99
Required Language:
English
Spoken Language:
English, German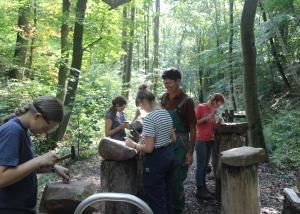 Description: Since 1990 this workcamp has been taking place in cooperation with the local youth meeting and education centre on the territory of the former concentration camp (KZ) Buchenwald. After construction in 1937, KZ Buchenwald was one of the largest concentration camps of the Nazi era. More than 278,000 people from over 50 countries were deported there and deployed to it or its more than 130 sub-camps for forced labour. At least 56,000 people did not survive Buchenwald. They suffered from terrible existential living conditions, died of hunger and diseases, were murdered in various ways, died in use in the war industry, or were killed by death marches. After 1945 the Soviets were using the former camp to concentrate the National Socialists. The innocents were also brought in the special camp.
Type of Work: Conservation and cataloguing of finds from previous excavations in the restoration workshop, maintenance of the former railway line Weimar-Buchenwald as a place of remembrance for deported children and young people, examination of individual fates in the production of memorial stones for the commemorative trail.
Study Theme: Options of extensive research of diverse aspects of the Buchenwald concentration camp history (1937-1945), the history of the Soviet Special Camp (1945-1950) and Buchenwald during the GDR period (till 1989). How could such a camp exist and work near the classic city Weimar? What happened in Buchenwald after the war against the Soviet special camp? How do societies remember it and what role do historical places play in this regard? Discussion on remembrance and commemoration of the Second World War in Germany, Ukraine and Russia and their current references. Dealing with "Forgotten camps".
Accommodation: In the international youth meeting centre at the memorial place with private showers in the rooms (3-4 people), possibilities to grill, to play table tennis etc. The volunteers will cook in teams. As we want to make our work camps more climate friendly, we encourage our work camp groups to prepare their meals on the basis of a vegetarian/plant-based diet. The groups decide together if they want to participate in this initiative. We provide information material with recipes and and other practical tips.
Language: The camp is conducted in English, so good language skills are desirable.
Requirements: The participants will do practical work mainly in the mornings, while the evenings are left for flexibly designed workshops, discussions, visits of museums and much more.Thus, the study part should comply with the wishes and ideas of the participants. This workcamp has a very extensive study part, so you must have a strong interest in the subject matter. English knowledge is required.
Notes: Participants will work practically in the mornings - the afternoons will be devoted to flexible workshops, discussions, museum visits and much more, i.e. the study part of the project. The programme is always oriented towards the wishes and ideas of the participants.
Organization Description: This workcamp is organized by the German branch of Service Civil International (SCI). SCI Germany was founded in 1946 and is approved as a non-profit organisation. We are one of the oldest peace and volunteer organisations. SCI Germany aims to promote peace, non-violence, international solidarity, social justice, sustainable development and cross-cultural exchange through international voluntary work. We cooperate with a network of branches and partners in more than 90 countries. Every year, SCI Germany organizes about 50 international workcamps in Germany.