Online Workcamp: What remains? Digital traces of the Neuengamme Concentration Camp.
Topic:
1: Antiracism, antifascism, remembrance
Options:
Wheelchair Accessible
Work Types:
Restoration, renovation / Study, discussion, research
Number of places still available:
5
Free places last update:
04 Aug 2020
International age:
18 - 99
Required Language:
English
Spoken Language:
English, German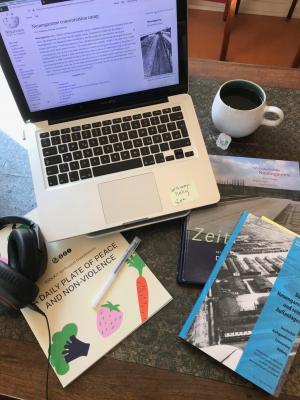 Description: During WW II, the Neuengamme concentration camp developed into the central concentration camp in Northern Germany, including over 80 subcamps. The SS used a method called "extermination through labour". Nearly 50% of the app. 100,000 prisoners who had been deported from the occupied European countries, did not survive. Today the Neuengamme Concentration Camp Memorial is a place of memory, information, education and research. Above that it is a result of political conflicts from the post war time until today. Two prisons had been erected on the former concentration camp area so that the majority of the site was not accessible to the public for a long time. The first workcamp in 1982 laid out the first route through the former concentration camp grounds and set up information boards.
Type of Work: This first digital work camp will focus on the digital traces of visitors of the concentration camp memorial site from all over the world, which they left behind in social media. The volunteers will research which different sources of information can be found when people in different countries search online for the history of the Neuengamme concentration camp. Another task will be to create Wikipedia entries on the subject of the Neuengamme concentration camp in different languages, or supplement existing entries. Moreover also to write articles for the local newspaper. The results and experiences will be documented in a blog or a similar tool.
Study Theme: Even if volunteers cannot meet on site as originally planned, you will deal with the history of the Neuengamme concentration camp. But also with the controversies surrounding the establishment of a concentration camp memorial site. Talks with representatives of the second generation and experts on the topic are planned. There will be exchange on the different perspectives on the period of World War II. After all, 2020 was the 75th anniversary of the end of the war, which due to Covid19 could not be celebrated as planned.
Accommodation: Accommodation isn't required.
Language: The international digital workcamp will be held in English, therefore a good knowledge of English is essential.
Requirements: Interest in historical topics and self-initiative. Good knowledge of English. To participate you need a quiet space for the digital meetings and a stable internet connection, and a computer or laptop with microphone and camera for video conferencing, as we want to communicate and exchange information online.
Notes: August 5-19, 2020 - divided into four blocks, in which the participants will meet together online in the mornings and afternoons and in between you will work on the projects in smaller groups.
05.08.2020 10-11.08.2020 13-14.08.2020 19.08.2020
If you are interested, but still have questions, if you are perhaps unsure about the dates, contact: ulrike.jensen@gedenkstaetten.hamburg.de
Organization Description: This workcamp is organized by the German branch of Service Civil International (SCI). SCI Germany was founded in 1946 and is approved as a non-profit organisation. We are one of the oldest peace and volunteer organisations. SCI Germany aims to promote peace, non-violence, international solidarity, social justice, sustainable development and cross-cultural exchange through international voluntary work. We cooperate with a network of branches and partners in more than 90 countries. Every year, SCI Germany organizes about 50 international workcamps in Germany.