Garden of Tranquility (Clay houses renovation and School English teaching)
This project is part of the SCI North South Programmes. Volunteers should be 20 years old, have previous volunteering experience and take part in the Preparation Workshops organised by their sending branch. More details from your sending branch.

Topic:
13: Community life
Work Types:
Agriculture / Teaching / Restoration, renovation
Free places for Females:
7
Free places last update:
28 Apr 2020
International age:
18 - 99
Extra fee to be paid in the hosting country:
8000.00 Thai Baht
Breakdown:
Accommodation and food: 0.00 Thai Baht
Transportation: 0.00 Thai Baht
Activities: 8000.00 Thai Baht
Hosting organisation support: 0 Thai Baht
Purpose of extra costs:
The participation fee is requested to pay to Dalaa for food, accommodation, and other project related expenses. Therefore, the fees are for the preparation of workcamps.
Required Language:
English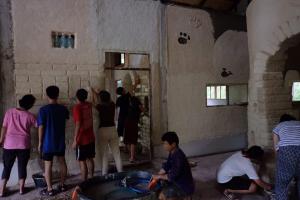 Description: There are 3 people in the family, working on alternative education, coaching for self-awareness, women empowerment, and conflict resolution for over 15 years. We moved to live in a garden for the last 6 years and started to plant trees and build houses for volunteers, visitors and ourselves. We started to teach English at the local school a few times and see the needs for community development. We would like to promote alternative education, self-reliance and working with Thai and foreign volunteers to improve the life of the community and society.
Type of Work: ACTIVITIES
Volunteers will work on an artistic clay building, plus repairing and painting clay houses.
Volunteers will grow vegetables and plant trees, water them, make compost and develop the agricultural land.
Activities and games with kids in the school.
Study Theme: AIMS of the PROJECT
To support local kids and young people to become able to communicate with foreigners and to learn from cultural exchange
To improve the self-awareness of kids and young people and provide a creative space to express themselves.
To create an open space for organic farming, towards a self-reliant an ecological community
Accommodation: - We will take a turn cooking 3 meals a day, suitable for vegetarians.
Volunteers will live in a small clay house.
Mosquito nets, pillows, blankets and mattresses are provided.
Good quality shared bathrooms and kitchen.
Language: English *Hosts can speak English fluently.
Requirements: - Volunteers should be interested in education for children, ready to lead a small group of kids on a chosen activity: English teaching, arts or others.
Volunteers should be ready to adapt to the Thai, local way of life, and willing to create relationships with volunteers' friends, hosts, and local people
Approximate Location: 105/ 4 Moo. 9 T. Khung Katien A.Muang, Ratchaburi, 70000, Thailand