Swedish nature, bushcraft and environmental issues at Bäckedals Folkhögskola
Topic:
11: Climate and sustainable lifestyle
Work Types:
Agriculture / Construction / Environment
Free places for Females:
5
Free places last update:
22 May 2020
International age:
18 - 99
Required Language:
English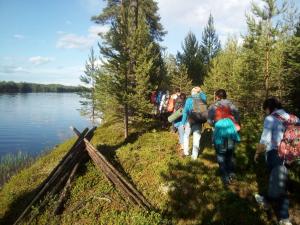 Description: Bäckedal's Institute of Popular Education is a school dedicated to popular adult education. The institute offering general programmes as well as programmes of traditional skills and craft, specialising in ancient technology and leather- metal- and textile processes. The school is independent concerning religion, party politics and the business-world and the education is funded by the Swedish state. The school´s objectives are global equality, human rights, democracy, gender equality and a sustainable use of the earth's ecological resources.
Type of Work: The work will be building, repairing, cleaning and painting work. There will also be some garden work as tree cutting, hedge cutting and plantation. Working and study time will be flexible depending on weather. The volunteers need to bring suitable clothes, preferably older ones that can take stains and dirt.
Study Theme: This is a work and part study camp. The theme for the studies is Swedish nature, buchcraft and environmetal issues. There will be discussions and thoughts about and around the theme. Some teachers at the school will be responsible for a small part of the studies but it is also necessary for the volunteers to take part in planning the studies and to have workshops of their own interest. We will also make excursions in nature and canoeing in the river Ljusnan.
Accommodation: All volunteers will live in a big house with two or three beds in each room. All beds are supplied with bed linen. The institute has Wi-Fi, sports hall, sauna and canoes etc. If you want to make excursions camping equipment as a sleeping bag could be needed. Volunteers will cook and clean for themselves on a rotate basis.
Language: The language used by all participants in our workcamps is English. You must therefore be able to speak and understand English, so that you don't feel isolated.
Requirements: Participants are expected to be an active member of the group and contribute to work, housekeeping and free time activities and to stay for the whole duration of the workcamp. Keep in mind that all kinds of drugs and alcohol are forbidden during the workcamp.
Approximate Location: The camp is situated near Sveg, 435 km northwest of Stockholm. Sveg is a small town with about 2500 inhabitants and the nearest cities are Mora and Östersund. Although Sveg is a small town there is a supermarket, pizzeria, gas stations, bakery and a library etc. Sveg is situated by the great river Ljusnan in Härjedalen, mid Sweden. The region Härjedalen is situated at one of the highest elevations above sea level in Sweden, with a unique kind of nature, summertime as well as winter.
Notes: Participants are expected to arrive on Sunday, 26th of July. The camp ends with a lunch on the 7th of August