Spring rejuvenation of eco farm & animal Sanctuary
Topic:
11: Climate and sustainable lifestyle
Work Types:
Environment / Restoration, renovation
Number of places still available:
13
Free places last update:
29 Jul 2020
International age:
18 - 99
Extra fee to be paid in the hosting country:
110.00 Euro
Breakdown:
Accommodation and food: 110.00 Euro
Transportation: 0.00 Euro
Activities: 0.00 Euro
Hosting organisation support: 0 Euro
Purpose of extra costs:
As the farm is a sanctuary and incomes are low and irregular we ask for food participation 55€ / week.
Required Language:
English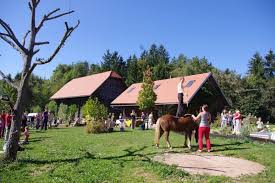 Description: V pravljici (In a Fairy-tale) is the biggest educational sanctuary with rescued farm animals in Slovenia. We offer you a unique experience of living in a beautiful natural enviroment with almost all kinds of farm animals. We will be making new housings for animals, constructing an underground green house from recycling materials and plant the garden. Plenty of leisure activities, biking, hiking...
Type of Work: There will be plenty of construction, planting in and around the farm, taking care of animals (feeding, cleaning), so physical abilities, strength and knowledge in these fields and are preferred. Cooking and gardening work is also everyday activity. You will learn according to your choosing in mostly practice about working and communicating with animals, eco and permaculture gardening, basic eco / sustainable living solutions and healthy vegetarin/vegan cooking. Work will be 7-8 hours a day, 2 days per week are off. Only breakfast is supplied on days off. On off days only taking care of the animals in small rotating teams.
Accommodation: You will be sleeping in a huge hay barn in the hay or in a tent (bring one with you, please). Everybody please bring your sleeping bag, towles and all you need.
Language: English, German, Slovene, some French
Requirements: Open mind, ready to get dirty and happy, ready to try new things, team spirit. If too many are interested, those with skills or experiences in construction, gardening and animal work will be preferred.
Notes: Don't bring your pets with you. Use of drugs and heavy drinking not allowed. We have almost 10 years of experiences in welcoming volunteers from all around the world. And we are very happy to host all different and interesting individuals. We try our very best to make you feel appreciated and happy. You will learn as much as you want and can. Individual arrangements for staying or studying are possible after the project ends.