Bring Oujda's ecological park back to life
This project is part of the SCI North South Programmes. Volunteers should be 20 years old, have previous volunteering experience and take part in the Preparation Workshops organised by their sending branch. More details from your sending branch.

Topic:
10: Environment protection
Work Types:
Environment / Manual / Social
Number of places still available:
10
Free places last update:
29 Jun 2020
International age:
20 - 99
Extra fee to be paid in the hosting country:
100.00 Moroccan Dirham
Breakdown:
Accommodation and food: 0.00 Moroccan Dirham
Transportation: 0.00 Moroccan Dirham
Activities: 0.00 Moroccan Dirham
Hosting organisation support: 100 Moroccan Dirham
Required Language:
English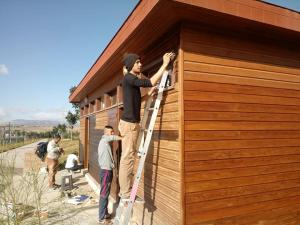 Description: Espace Volontariat Oujda (EVO) is the association responsible for all the volunteering activities in Oujda. Their main office stands in a social center where sport is organised for women. EVO is focusing on different topics such as promoting artistic and cultural events or protecting the environment. During this workcamp, volunteers will help restoring Oujda's ecological park and be part of social activities during the afternoon!
Type of Work: The volunteers will be involved in the association's life. In the morning, they will go in the park cleaning, planting and weeding. Beside that they will be restoring the playgrounds and other buildings in the park. During the afternoon, the volunteers will be part of discussions about the environment. painting workshop, sport events. During every activity, local volunteer will be with the international ones
Study Theme: The main subject is the environment. The park has been created to serve as an air filter for the city. There is 25'000 different tree species. During the workcamp, you will learn about how Oujda is joining the whole country in a effort to become more sustainable!
Accommodation: Volunteers will be staying in the social center which is located 15 min away from the park. Volunteers will be sleeping in dormitory and need to bring their own sleeping bag with.
Language: English-French