Deviens Artiste pour la Paix!
Country:
Belgium - French speaking
Topic:
4: Peace and disarmament
Work Types:
Art / Peace / Study, discussion, research
Number of places still available:
2
Free places last update:
13 Aug 2020
International age:
18 - 99
Required Language:
French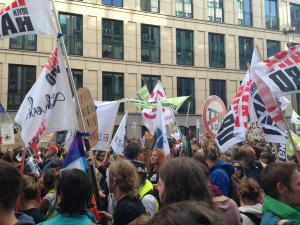 Description: A l'occasion des 100 ans du mouvement du SCI International, la branche belge francophone du SCI organise cette année un projet de volontariat axé sur le pacifisme, avec pour objectif de créer des actions de sensibilisation dans l'espace public, en utilisant des modes d'expression artistiques.
Type of Work: Les volontaires participeront a des ateliers de réflexion sur l'histoire du pacifisme (identification des luttes passées et présentes) ainsi qu'a des échanges avec des activistes pacifistes et anciens volontaires. Ils-elles seront initié-e-s aux techniques d'action directe en utilisant la non-violence pour faire passer des messages dans l'espace public. Le projet se concrétisera le dernier jour par une ou plusieurs créations artistiques dans l'espace public (collage, affiche, saynètes, performance) qui auront été élaborées pendant les deux jours précédents selon les affinités et inspirations des volontaires. Le talent artistique n'est pas un prérequis pour participer au projet. Deux artistes accompagneront d'ailleurs les volontaires dans le processus de création.
Study Theme: Les luttes pacifistes d'hier et d'aujourd'hui afin d'entrer en action de manière créative et artistique
Accommodation: Il n'y aura pas de logement. Les volontaires se rendront tous les jours sur le lieu du projet.
Language: Français
Approximate Location: Le projet se déroulera dans les locaux du SCI a Bruxelles (Maison de la Paix).