International studycamp and workcamp at Mittelbau-Dora and Buchenwald concentration camp memorial sites.
Topic:
1: Antiracism, antifascism, remembrance
Work Types:
Manual / Peace / Study, discussion, research
Number of places still available:
0
Free places last update:
07 Sep 2020
International age:
18 - 99
Required Language:
English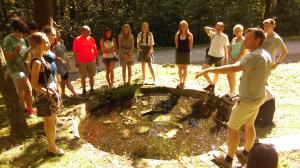 Description: For many years, SCI-D has been conducting studycamps and workcamps on the grounds of the former Buchenwald and Mittelbau-Dora concentration camps, in which volunteers not only participate in the practical maintenance of the memorials and individual site-specific remembrance projects, but also have extensive opportunities to study interesting aspects of local history and current social issues. This year a joint project of both sites will take place and we cordially invite you to register for it. Here you have the opportunity to get to know the surrounding cities, their history and present in workshops, in joint tours and on exhibition visits, to do archive research and much more.
Type of Work: In the first part of the programme (20.-27.09.) at the Mittelbau-Dora concentration camp memorial site in Nordhausen, the practical work will take place within the framework of the barrack-labelling project of recent years. For this purpose, we will mark the remaining traces in the area and the ground plans of former buildings to make them visible. Within this framework, we will carry out care and maintenance measures.
In the second part of the programme (27.09.-03.10.) at the Buchenwald Memorial, we will work practically on the "Buchenwald Railway Memorial Path" and, in addition to very important conservation work, we will produce memorial stones here that commemorate children and young people who were deported to Auschwitz and murdered there.
Study Theme: Mittelbau-Dora: Central aspects of Nazi ideology and the concentration camp system from 1943 onwards; focus on various forms of concentration camp forced labour and their consequences for the prisoners; questions of responsibilities and their significance for the present.
Buchenwald: "German national community" formation and development of the concentration camp system since 1937; diversity of forced labour in concentration camps and outside; concept of work in modern societies (in crisis); "open space" for country-specific perspectives on historical events and your own themes and ideas.
Accommodation: In the Rothleimmühle Youth Hostel in Nordhausen and in the International Youth Meeting Place (JBS) at the Buchenwald Memorial. Accommodation is provided in accordance with the currently valid hygiene regulations. Detailed information will be provided upon acceptance of your application. Please wear mouth and nose protection on your arrival.
Language: The camp language is English.
Requirements: Participants should not be older than 27 years. This workcamp has a very extensive study part, so you must have a strong interest in the topic. English language skills are required. Initiative from the participants is very welcome, as far as the program design is concerned! Detailed information about the memorials is here.
Approximate Location: Nordhausen is located on the southern edge of the Harz Mountains in Thuringia, about 110 km east of Kassel. Buchenwald is very close to the city of Weimar, which is known for its great cultural heritage and its importance in German history.
Notes: Due to the internationality of the respective prisoner groups, we will be able to take a broad European perspective when looking at history. Excursions, including one to Erfurt, the capital of Thuringia, are also integrated into the programme. As far as the pandemic situation allows, we would like to go on hikes, visit parks, pub crawls and much more - to spend an interesting and varied time together.
Organization Description: This workcamp is organized by the German branch of Service Civil International (SCI). SCI Germany was founded in 1946 and is approved as a non-profit organisation. We are one of the oldest peace and volunteer organisations. SCI Germany aims to promote peace, non-violence, international solidarity, social justice, sustainable development and cross-cultural exchange through international voluntary work. We cooperate with a network of branches and partners in more than 90 countries. Every year, SCI Germany organizes about 50 international workcamps in Germany.