Online Project: 100 Years of International Workcamps
Topic:
4: Peace and disarmament
Work Types:
Peace / Study, discussion, research
Number of places still available:
2
Free places last update:
15 Oct 2020
International age:
18 - 99
Required Language:
English
Motivation letter:
This camp requires an additional motivation letter to explain in more detail why you would like to attend.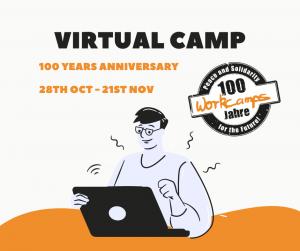 Description: If you have had a lot of workcamp experience and want to be involved with a special project in relation to the 100 year anniversary of the workcamp movement then this is for you. In a group of around 10 people, we will focus on how workcamps have influenced individuals, local communities and what the future of workcamps might look. We will also discuss the global impact of workcamps and in what ways they help to support and maintain Peace and Solidarity. In addition, we will discuss how the role of workcamps might change in the future and whether there may be an undiscovered potential to workcamps. In conjunction with this, we will further consider how the role of workcamps might change in the world following the Covid 19 pandemic.
Type of Work: The final aim of the project will be to produce a video which can be presented at a variety of events and conferences related to the 100th anniversary of workcamps. This video would be a summary of our discussions and collective thoughts on the ideas mentioned above and would encourage others to appreciate workcamps.
Accommodation: You stay safe and sound at home and meet other international participants in the digital space.
Language: English
Requirements: You should have workcamp experience and believe that workcamps are beneficial and perhaps even underappreciated. You should be happy to share your ideas and be comfortable with being recorded and being a part of the final video.
Approximate Location: Online. There will be a kick-off meeting on 21.10.2020 at 6pm then we will meet twice a week online for 2 hour sessions from 28.10. These meetings will be held on Wednesday from 6pm to 8pm and Saturday 10:30am to 12:30am (German time). We ask that you to attend all meetings, which will be held over BBB.
Notes: Please send a detailed motivational letter before 08.10.2020. A decision will be made based on the experience and motivation of applicant.
Organization Description: This workcamp is organized by the German branch of Service Civil International (SCI). SCI Germany was founded in 1946 and is approved as a non-profit organisation. We are one of the oldest peace and volunteer organisations. SCI Germany aims to promote peace, non-violence, international solidarity, social justice, sustainable development and cross-cultural exchange through international voluntary work. We cooperate with a network of branches and partners in more than 90 countries. Every year, SCI Germany organizes about 50 international workcamps in Germany.