Topic:
5: Poverty and social injustice
Work Types:
Festival / Manual / Social
Free places for Females:
10
International age:
19 - 23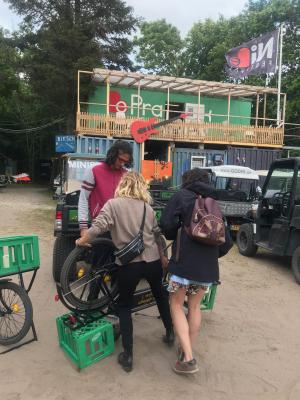 Description: Nibe Festival is the 6. largest music festival in Denmark. It includes music of all sorts, but mostly Pop and Rock spread out on more than 100 concerts during the entire festival. There are 5 different stages which have different target groups. The Big stage Blue stage Reservatet The Jazz caveOne stage on the Camp Nibe Festival first saw the light of day back in 1985 and takes place in late June to early July. It is located out in a forest called Skalskoven which gives a really special vibe and it is only 500 meters from downtown Nibe. Every year almost 4.700 volunteers come together before, during and after the festival to make sure all is perfect. This means that all earnings are used to support local associations in Nibe and a lot of different cultural subjects in all of the north of Jutland. Nibe Festivals Teamleader for Sustainability will be your leader during the Work CampThis year is the 5th Work Camp on Nibe Festival
Type of Work: The work will take place before and after the Festival where we will be in charge of building/putting up and taking down ( Fences, tents, festival-bars, floors and much more. We are working with sustainability as well.There will be a lot of other volunteers which makes it a wonderful place to socialize, making friends and get that special connection with peers that might last a lifetime. Remember that we are off duty during the festival and therefore are forced to enjoy ourselves and listen to good music in between work ;-) We will be working together in teams before and after the festival between 09.30-20.00
Accommodation: Sleeping and toilet facilities: We will be sleeping two and two in tents in a quiet area at the festival. You will have to bring your own sleeping madras and sleeping bag and what else you must need for you to sleep in a tent. It is a very nice modern tent, but still a tent. The will be bathroom facilities near the tents.Food:The festival will provide food for all the participants and you wont have to cook. Vegetarian food is always an option. Before and after the festival, you will be served three meals a day and this includes drinks.During the festival, you will receive food vouchers and you will be given a water bottle, which you can fill in one of the water tanks there are placed all over the campsite. You are also welcome to bring your own water bottle.
Language: eng,
Requirements: OBS To participate in this Work Camp, we require you to provide:A motivational letterTravel informationCOVID-19:In regards to COVID-19, it is our ambition to complete our Work Camps this summer, but it is essential for us, that our volunteers feel safe during the time they spend at our camps. This is why we constantly keep ourselves updated on the situation and we follow the Danish government s instructions. Furthermore, we are ready to answer any questions that you might have, and we will keep all our volunteers updated right up until the start of the Work Camp.As of March 2021, there is a few important things to mention:- it is free for foreigners to take a COVID-19 test upon arrival in Denmark- with the current vaccine plan, most Danes will be vaccinated at the end of June 2021Your Work Camp host will have guidelines on how to handle COVID-19 during your stay, including how to handle isolation and enforcement of government guidelines. As the festival will take place in the woods, we can unfortunately not receive participants with disabilities.English will be the only language spoken. All participants must be willing to speak English, even though being from the same country or having troubles with the English language. Try your best
Approximate Location: The Festival is close to Nibe city and therefore there is a lot of possibilities. Shopping, going to the harbour for a dip, nice cafes. Nibe is also very close to Aalborg, Denmarks 5th largest city with a rich cultural life and lots of possibilities. Please contact us if you have any suggestions about things you want to do or go see ( then well see if we can work something out You are each expected to give us and the other volunteers a little lecture about your country ( may it be a presentation, a language course or anything that provides us with some basic knowledge about you and your culture. You decide how you want to structure it; it just has to last for about 10 minutes. Just be free and creative.