Fostering Biodiversity in a Community Garden (Lake Constance)
Topic:
10: Environment protection
Work Types:
Construction / Environment / Study, discussion, research
Number of places still available:
7
Free places last update:
08 Jul 2021
International age:
18 - 99
Required Language:
English
Child friendly camp
Yes (Minimum age: 0)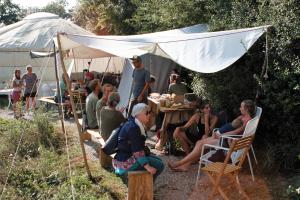 Description: Help to protect the biodiversity in a community garden and learn to reconnect with nature. The Verbindungskultur e.V. is a place to develop learning experiences that foster a profound and authentic connection to nature, where sustainable ways of life are explored and practiced, and which promote peaceful and creative ways of being together - to create social change for the benefit of all beings. With this work camp, the biodiversity in the community garden at the place of the association "Verbindungskultur e.V." close to Lake Constance is now to be specifically promoted. To this end, we would like to enrich the existing permaculture garden with additional habitats for rare and/or specially adapted animal and plant species.
Type of Work: With our work, we will focus on species protection and the construction of so-called "nature modules", i.e. small microhabitats that can increase and stabilize the biodiversity of a site, in this case of the "home" our association. These nature modules include for example: dry stone walls, stone piles, stone pyramids, dead wood piles, wood cellars, sandariums, small water puddles, wildflowers, and many more. These increasingly rare habitats attract endangered species that can find a habitat here again. Furthermore, we want to improve the infrastructure of our seminar site, e.g. by building stairs and paths, possibly also handicapped access. The tasks will mainly be accomplished with physical labor, but there will also be theoretical input on the nature garden idea.
Study Theme: SCI; biodiversity in nature gardens; Permaculture; Nature Connection; Culture of Belonging; Compassionate, peaceful and empathic communication
Depending on the participants' interests, other themes are also possible.
In addition to the practical work and the study parts, the work camp will be designed in a way that supports the growth of intense social bonds within the international volunteer team and beyond, promoting peace on a personal and collective level.
Accommodation: In own tents (please bring your own tent, your sleeping mat and sleeping bag), if needed indoor-facilities are possible. There is an outdoor kitchen, compost toilets, solar shower, and a cozy heated yurt as a community space (built by previous SCI volunteers).
We will cook together as a group - in our kitchen tent and sometimes, if you are interested, on the campfire. We will prepare mainly plant-based delicacies from as much as possible regional-seasonal ingredients , which will nourish body and soul after work :-)
Language: The common language will be English. In the team of Verbindungskultur e.V. there are also contact persons with knowledge of French, Spanish and Russian (as well as German as a native language).
Requirements: Openness to and interest in ecological gardening; willingness to do physical work and teamwork; joy in being with others; desire to be outdoors with simple infrastructure (tents, composting toilets, solar shower).
Approximate Location: Our community garden is located a couple of kilometers north of Lake Constance, 40 km from the city of Constance, just outside the village of Lellwangen, Deggenhausertal. There we are in the midst of lush meadows and pastures, surrounded by mixed beech-spruce forest and lively little streams, and on a clear day we can enjoy a wonderful view of the lake and the Alps.
Notes: The workcamp is about 10 days long and the landscape around is really beautiful. There are many recreational opportunities: Hikes through the hilly landscape in the vicinity; Ravensburg (historic old town with several towers of the old city fortifications); Mainau Island; Pile Dwelling Museum Unteruhldingen; Salem Castle; Salem Monkey Mountain; Constance with its historic old town; swimming opportunities in the area: Schlosssee Salem, Ilmensee, Lake Constance. So if you want to stay longer in this region, you have the possibility to make several trips to the sights around Lake Constance, to join a boat trip or a sailing trip or to go for a bike tour (there are several places where you can rent a bike).
Organization Description: This workcamp is organized by the German branch of Service Civil International (SCI). SCI Germany was founded in 1946 and is approved as a non-profit organisation. We are one of the oldest peace and volunteer organisations. SCI Germany aims to promote peace, non-violence, international solidarity, social justice, sustainable development and cross-cultural exchange through international voluntary work. We cooperate with a network of branches and partners in more than 90 countries. Every year, SCI Germany organizes about 50 international workcamps in Germany.