Re-use and re-create with socially engaged Artists in Brussels!
Topic:
11: Climate and sustainable lifestyle
Work Types:
Art / Restoration, renovation / Social
Number of places still available:
2
Free places last update:
Sep 08, 2021
International age:
20 - 99
Required Language:
French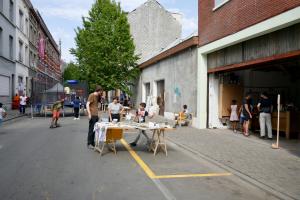 Description: "Gilbard" Association is composed by a collective of artists who created a place where they store used materials in order to give them a new life in form of artwork and furniture but also to exchange them with the local population though a "points" system. It is located in Anderlecht/Brussels since 2018. The association collects, reconditions and exchanges creation/construction material (wood, metal, tissue, paint, ...) to create and to support cultural and artistic projects in the Brussels region. They are also a local meeting point in a working-class neighbourhood ( workshops, unformal trainings and local events).
Type of Work: During the "car-free day" in Brussels on 19th September, "Gilbard" will be organizing an event to open its new space located in Rue de Liverpool, 77 in Anderlecht/Brussels. The project consists in preparing this event according to the wishes of the volunteers and the needs of the day (preparations, reception of the public, meals, performances, animations, scenography). On the day of the event, volunteers will participate in various workshops and animation stands for children and adults of the neighborhood. For 6 hours a day, the volunteers will be distributed on missions/tasks with the staffmembers (meal preparation, construction, logistics, organization) until the D-day. Help will be need on the day of the event and on the day after in order to clean and store everything.
Study Theme: - Suggest other ways of occupying public space, especially on a temporary basis
Act locally, and in partnership with local places, neighborhoods, people and local projects
Enhance non-monetary exchange systems
Adapt construction / creation methodologies to reuse
Experiment together
Make art forms that are resilient and anchored in social / collective life
Allow the public to be users
Accommodation: The group will collectively meet its own needs for daily life, particularly in terms of food (recovery of unsold items, repackaging, cooking). Volunteers will be provided with a list of partners where they can collect food and a kitchen will be available on the association's premises. There will be no accommodation, volunteers will have to return home every evening.
Language: French, English. Other languages like Spanish or Portuguese are also spoken by the staff members of the association.
Requirements: The volunteers should be independent, organized, motivated, resourceful, attentive, handyman. Any specific qualification related to the various tasks above is welcome. The driving license is an asset.
Approximate Location: Brussels Capital Region - Rue de Liverpool 77 1070 Anderlecht (BE)
Notes: Covid-related safety measures :
Face masks to be used only outside of the group
Ventilated living areas
Contact surfaces will be cleaned regularly
Material will remain in the group bubble as much as possible
Remember to cough in the elbow, wash hands regularly, use single-use tissues
Participants will be asked to sign a certificate indicating that they have not suffered any symptoms that may be related to COVID during the two weeks preceding the volunteer project (sore throat, cough, headache, fever).